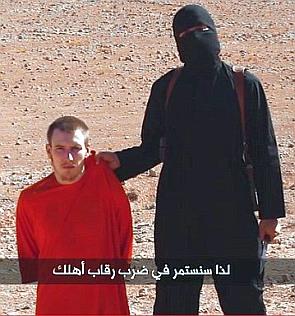 The Islamic State group has released a video showing the beheading of US aid worker Peter Kassig in a warning to Washington as it prepares to send more troops to Iraq.
The same video showed the gruesome simultaneous beheadings of at least 18 men described as Syrian military personnel, the latest in a series of mass executions and other atrocities carried out by IS in Syria and Iraq.
The video emerged on Sunday just minutes after President Barack Obama departed Australia for the US after attending the G20 summit.
Kassig, 26, was captured last year while helping provide medical aid to Syrians. His friends say he converted to Islam in captivity and changed his name to Abdul-Rahman.
US President Barack Obama has termed his beheading as an act of pure evil.
"ISIL's actions represent no faith, least of all the Muslim faith which Kassig adopted as his own," Obama said in a statement after American intelligence agencies authenticated the ISIL video on the killing.
"Today we grieve together, yet we also recall that the indomitable spirit of goodness and perseverance that burned so brightly in Kassig, and which binds humanity together, ultimately is the light that will prevail over the darkness of ISIL," Obama said.
Offering his prayers and condolences to the parents and family of Kassig, President said: "We cannot begin to imagine their anguish at this painful time. He was taken from us in an act of pure evil by a terrorist group that the world rightly associates with inhumanity".
"Like Jim Foley and Steven Sotloff before him, his life and deeds stand in stark contrast to everything that ISIL represents," he said.
"While ISIL revels in the slaughter of innocents, including Muslims, and is bent only on sowing death and destruction, He was a humanitarian who worked to save the lives of Syrians injured and dispossessed by the Syrian conflict," the President said.
"While ISIL exploits the tragedy in Syria to advance their own selfish aims, he was so moved by the anguish and suffering of Syrian civilians that he travelled to Lebanon to work in a hospital treating refugees," he said.
"Later, he established an aid group, SERA, to provide assistance to Syrian refugees and displaced persons in Lebanon and Syria. These were the selfless acts of an individual who cared deeply about the plight of the Syrian people," he added.
In a statement Secretary of State John Kerry said Kassig personified the values of altruism and compassion which are the very essence of his adopted religion of Islam.
"This was a young man who travelled to one of the world's most dangerous places to care for the innocent victims of a bloody conflict, and fearlessly dedicated himself to helping those in need. There can be no greater contrast than that between Abdul-Rahman's generosity of spirit and the pernicious evil of ISIL," he said.
"During his time in captivity, his family, and the entire government, including his home state Senator Joe Donnelly, worked to avoid this tragic outcome, His mother's searing plea directed to his captors is unforgettable", Kerry said.
"The fact that her appeal went unheeded is only further testament to the wicked inhumanity of the ISIL terrorists who have taken her son from her. Just as we witnessed with Jim Foley and Steven Sotloff, the sincere efforts of so many to bring home innocent hostages have been met with blood and barbarity," he added.
"On a day like this, even as we reiterate that the United States and the civilised world will defeat those who have killed so many innocents, we can all find inspiration in the commitment of Ed and Paula Kassig, the Secretary of State said.
"Their devotion to their son is remarkable. They never stopped trying to bring him home. They never gave up. The Kassigs raised a young man who was courageous and selfless to the core, and after seeing the way his family fought on his behalf, it is clear those virtues define the entire family that loved him so much, Kerry said.