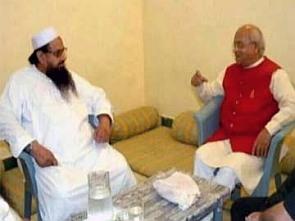 Intelligence Bureau agents tell Vicky Nanjappa/Rediff.com that Dr Ved Pratap Vaidik's meeting with terrorist Muhammad Saeed will only benefit the ISI.
While the furore over Dr Ved Pratap Vaidik's meeting with Lashkar-e-Tayiba terrorist Muhammad Saeed grows and the Centre tries to distance itself from the controversy, sources in the Intelligence Bureau, India's domestic intelligence agency, tell Rediff.com that they believe the encounter was approved by Pakistan's Directorate for Inter-Services Intelligence to embarrass India.
"Our intelligence agencies are aware of what Saeed means to the Pakistani agencies," an Intelligence Bureau agent said, adding, "He is like a keyed-up doll who acts according to the whims and fancies of the ISI. Pakistan will give up their prime minister, but not Saeed."
Only the ISI would benefit from such a meeting and the consequent controversy in India, the IB agents this correspondent spoke to felt.
IB agents investigating the 2008 Mumbai terror attacks, which Saeed has been charged with of being the mastermind, say they are upset with Dr Vaidik's meeting. "Why did Vaidik speak to Saeed? He is not a head of State nor is he the official spokesperson for Kashmir. He is a mass murderer who is wanted in more than one country. Saeed should be punished for his heinous crimes," one IB agent said, speaking like the others on condition that he would not be named in this report.
Other IB agents felt the meeting with Saeed could not have come at a worst time. Ever since Prime Minister Narendra Modi took charge and the United States banned the Jamaat-ud-Dawa, the so-called charity front for the Lashkar-e-Tayiba, Saeed has become even more aggressive.
Just recently, Saeed tweeted, 'Instead of instigating Hindus in Pakistan, @narendramodi should focus on fulfilling rights of Muslims in India. Hindus in Pakistan are safe.'
On another occasion, the terrorist said, 'Everyone knows the entire Indian election was contested on anti-Pakistan and anti-Islam sentiments.'
The ISI, the IB agents say, will never allow Saeed to be prosecuted for the 26/11 attacks. "Saeed was arrested after 26/11, but India was told it had nothing to do with the Mumbai attacks and the arrest pertained to a case in 2002 related to violence that had occurred after a rally he addressed," one IB agent said, adding, "The only intention for his arrest was to save him from a possible drone strike."
Image: Lashkar-e-Tayiba terrorist Muhammad Saeed, right, with Dr Ved Pratap Vaidik.