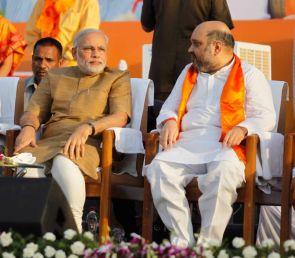 The charge-sheet in the Ishrat Jahan encounter case contains the testimony of senior Gujarat police official who claimed that he had heard former DIG D G Vanzara telling his junior about permission from the Narendra Modi and Amit Shah to go ahead with the encounter. Vicky Nanjappa reports
Three days before the Central Bureau of Investigation framed charges in the Ishrat Jahan encounter case, sources from the investigating agency said that Gujarat Chief Minister Narendra Modi and former state home minister Amit Shah would be spared.
The CBI had earlier said that the testimony of police officials questioned in the case stated that former Gujarat DIG D G Vanzara had spoken with "white beard and black beard" (code names for Modi and Shah) before the encounter. However, the CBI was unable to get requisite evidence to nail the two seniormost leaders in the state.

Modi and Shah's names cropped up during the testimony of then deputy superintendent of police in crime branch D H Goswami. He claimed that he was aware of the planning of the encounter and was even privy to many conversations between officers. It was at one such meeting attended by Vanzara that the name of Modi and Shah had cropped up.

According to Goswami, Intelligence Bureau special director Rajinder Kumar told Vanzara to seek an approval from the CM and the then home minister before the killing. In a meeting held later, when junior officer G L Singhal had objected to the encounter, Vanzara is said to have lost his cool and mentioned seeking a go-ahead from Modi and Shah. However, Kumar during his questioning said that he was not aware of any such incident in which the names of the two leaders were mentioned.
The CBI had recorded Goswami's testimony, which was made before a magistrate. It is part of the annexure in the chargesheet, which was filed on Wednesday.

While the testimony is admissible under law and the court could give a directive on its basis, the CBI does not have any concrete evidence to show the involvement of Modi or Shah in the encounter. CBI sources say they are still investigating this angle and are looking at including it in its supplementary chargesheet.
First and foremost, the testimony is based on hearsay and cannot be treated as evidence. Even if the statement is made before the magistrate a conclusion cannot be drawn until it is investigated and the crime linked. The CBI is still in the process of hunting for call records to show that there was permission sought from Modi and Shah prior to the encounter. The CBI will also try to further probe the statements made by Singhal, Vanzara and Goswami.

Image: Gujarat CM Narendra Modi with his aide Amit Shah