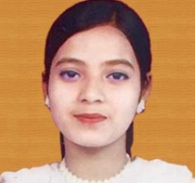 The Central Bureau of Investigation, which submitted its first charge sheet in the 2004 Ishrat Jahan fake encounter case, has not named ten police officers who might have spilled the beans about the offence and are likely to be let off.
"In this charge sheet we have not included 10 of those accused who were named in our FIR, and soon we would be submitting a report under section 169 of the Criminal Procedure Code with regard to them," CBI lawyer Ejaz Khan had said while submitting the charge-sheet before the court in Ahmedabad on Thursday.
Under section 169, an investigating officer can request the court to release an accused when evidence is inadequate, or if there are other reasonable grounds. The CBI has recorded several statements before the magistrate.
The original CBI first information report of December 2011 had 20 accused, including the aforesaid ten -- mostly constable and commando-level officers, barring a police inspector.
These men are: Devendragiri Goswami, H P Agrawat, P G Vaghela, R I Patel, K M Vaghela, C J Goswami, Bhala Bharwad, Vikram Chauhan, Kalu Desai and Bharat Patel (inspector), all posted at Detection of Crime Branch, Ahmedabad, which carried out the encounter, which CBI claims was fake.
CBI sources also said that IPS officer G L Singhal too provided critical information and material during his interrogation. Singhal, alongwith four other accused police officers, has been granted bail by the court as the CBI failed to file charge sheet within the mandatory 90 days of arrest.
But Singhal figures in the charge sheet. Other accused named in the charge-sheet are: IPS officers D G Vanzara, P P Pandey, DySPs N K Amin, Tarun Barot, J G Parmar and commando Anaju Chaudhary. A probe was on with regard to roles of former state DGP K R Kaushik and the then crime branch police inspector V D Vanar, CBI said.
As per CBI, the conspiracy to abduct, confine and kill Ishrat, Javed Sheikh, Zeeshan Johar and Amjad Ali Rana was planned by D G Vanzara, Additional DGP P P Pandey and the then Gujarat Subsidiary Intelligence Bureau Joint Director Rajendra Kumar.
The encounter, allegedly fake, took place on the outskirts of Ahmedabad on June 15, 2004. The police had then said that these four were LeT terrorists who had come to the city to assassinate Chief Minister Narendra Modi.