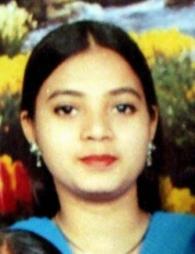 A jailed Gujarat police officer who is one of the accused in the "fake" encounter killings of Ishrat Jahan and three others, today sought bail on the ground that the Cent6ral Bureau of Investigation had filed "incomplete" chargesheet in the 2004 case.
Suspended Deputy Superintendent of Police N K Amin filed a bail application through his advocate Ruturaj Nanavati in the Special CBI Court.
In his application, Amin has claimed that the CBI, which is probing the encounter, failed to file a chargesheet against him within the stipulated 90 days of his arrest. The document filed on Wednesday by the Central agency was "incomplete".
"The CBI's charge sheet is defective and incomplete as it does not conform to rules prescribed under Section 173(5) of CrPC. Non-compliance of rules on the part of the CBI allows Amin right to seek benefit of default bail under Section 167(2)," said Nanavati.
He also cited provisions of Section 167(2) of CrPC and said an accused is entitled to seek bail if the investigating agency does not provide all the relevant documents and other evidence on the basis of which he has been named in the charge sheet within a stipulated time.
Additional Chief Judicial Magistrate H S Khutwad, who is presiding over the CBI court, fixed July 6 for hearing Amin's application.
As per the charge sheet, Amin, along with Tarun Barot, another DySP, abducted Jahan, a Mumbai-based teenager, and her associate Javed Shaik alias Pranesh Pillai from a toll booth in Anand district two days prior to their killing on June 15, 2004 near Ahmedabad.
He is also accused of firing shots at Ishrat, Javed and two alleged Pakistani nationals Zeeshan Johar and Amjad Ali Rana. All four were killed by Ahmedabad Crime Branch in what the CBI claimed was a staged shootout.
The CBI had arrested Amin on April 4 after his release on bail in the Sohrabuddin Shaikh encounter case. Earlier, five policemen-accused in the case -- G L Singhal, Barot, J G Parmar, Bharat Patel and Anaju Chaudhary -- were granted default bail as CBI failed to file charge sheet within 90 days of their respective arrest.