Why Rajiv Pratap Rudy, MP, and his party, the BJP, are angry with Pappu Yadav.
M I Khan reports.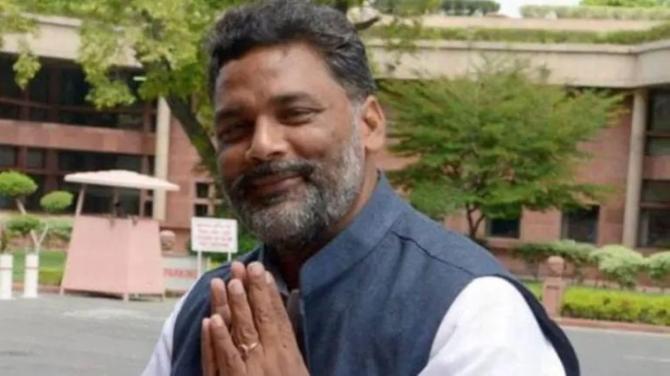 Four days after he exposed the fact that over 30 ambulances imprinted with 'MPLADS 2019' (Members of Parliament Local Area Development Scheme) were parked at Bharatiya Janata Party MP Rajiv Pratap Rudy's house in Bihar's Saran district, former MP Pappu Yadav was arrested in Patna on Tuesday, May 11, 2021.
The police said Yadav -- who leads the Jan Adhikar Party -- was arrested on charges of violating the state's lockdown rules.
The Bihar police lodged an FIR against Yadav on May 8, a day after the ambulances were found, while no action is being taken against Rudy.
Yadav's arrest is seen as a consequence of his daring step to expose Rudy, a former Union minister.
As the COVID-19 situation worsens in Bihar, Yadav has stepped up to help COVID-infected people by arranging oxygen, blood, plasma, beds in hospital, money, medicine and food.
Yadav and a small group of party workers have been visiting different places in Bihar, including government-run hospitals in Patna and across the state, to directly help COVID-infected patients.
Yadav has repeatedly attacked the ruling National Democratic Alliance government in Bihar, Chief Minister Nitish Kumar, Health Minister Mangal Pandey and bureaucrats for their failure in handling the COVID disaster.
Soon after being arrested and taken to the Gandhi Maidan police station in Patna, Yadav said, 'PM saheb, CM saheb, de do phansi ya bhej do jail, jhukunga nahi, rukunga nahi, logo ko bachaunga. Beimamno ko benakab karta rahunga (PM Sir, CM Sir, you may hang me or send me to jail, but I won't be intimidated nor will I stop saving people. I will expose those who are guilty).'
Yadav tweeted after being arrested, 'If it is a crime to help people who are battling for their lives against Corona by putting my own life at risk, then yes, I am a criminal.'
According to Jan Adhikar Party worker Raju Danvir, Yadav has exposed the government's claims by highlighting the poor infrastructure at government hospitals in the pandemic.
Yadav's latest expose embarrassed both the BJP and Rudy, who belongs to the influential upper caste Rajput community, which has an important say in Bihar's caste-driven politics.
As per a Jan Adhikar Party worker close to Yadav, he was on his way to Siwan to meet the family members of former MP Mohammad Shahabuddin last Friday. Shahabuddin died of COVID-19 in a Delhi hospital on May 1.
When a local leader accompanying Yadav informed him that dozens of ambulances purchased with MPLADS fund were parked at Rudy's house in Amnour, Saran, Yadav directed his driver to go there first as it was on the way to Siwan.
"Yadav found 30 ambulances parked there. As half a dozen local TV news reporters were accompanying him, they reported it and video clips of the ambulances went viral on social media. That created trouble for Rudy and his party," says the Jan Adhikar Party worker.
Opposition parties in the state -- the Rashtriya Janata Dal, the Congress and CPI (ML) -- have demanded action against Rudy for keeping the ambulances unused during the COVID crisis.
However, instead of action being taken against Rudy, an FIR was filed against Yadav following a complaint from Rudy's office. The complaint alleged that Yadav and his supporters damaged two of the ambulances and manhandled the caretaker, besides violating lockdown guidelines.
Hours after Yadav's expose, Rudy said the ambulances were lying unused for want of drivers. He also said there were only 20 ambulances there.
'I have managed to get 75-80 ambulances of which 50-55 are running. I have asked the district administration to provide drivers for the ambulances,' Rudy said.
The next day, May 8, in Patna, Yadav presented before the media nearly 40 drivers who were willing to drive the ambulances.
Jan Adhikar Party workers in Patna and other places have protested against Yadav's arrest and demanded his immediate release.
Chief Minister Nitish Kumar's allies -- Hindustan Awam Morcha President Jitan Ram Manjhi, who served as the state's chief minister, and Vikassheel Insaan Party President Mukesh Sahni, currently Bihar's minister for animal husbandry and fisheries -- have opposed Yadav's arrest.