As the number of COVID cases rise in Bihar, data indicates that the state is slowing down on testing.
M I Khan reports.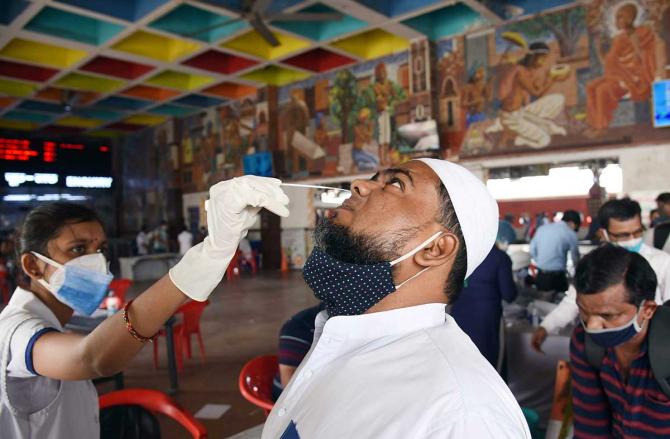 Vikas Kumar, in his mid 20s, visited Gardanibagh government hospital in Patna for the RT-PCR test along with his neighbour and friend, Lokesh Singh, on May 4.
After waiting in a queue for over three hours, they were shocked when health officials told them the test would not be conducted and asked them to return later.
Kumar and Singh said, like them, dozens of others were turned away as well.
This is one example of how COVID tests are being conducted by the Bihar government, with officials discouraging or delaying it. As a result, the number of tests conducted in the state has reduced.
Bihar tested over 100,000 samples on April 27 but, on May 3, it tested only 72,000 samples.
Ironically, this is happening days after Chief Minister Nitish Kumar announced that testing would be increased and over 100,000 sample tests would be conducted on a daily basis.
Dr Sunil Kumar, an official from the Bihar branch of the Indian Medical Association, said finding of COVID positive cases is a big challenge and it is possible only by conducting more sample tests.
Going by the health department's current strategy, it looks like the government is in damage control mode and has decided to ignore the alarming spread of the disease by decreasing the number of daily tests to project that there are fewer COVID positive cases. They seem to want to use this data to claim that the situation is not out of control.
This is contrary to the central government's much publicised 'test, treat, trace' strategy to combat COVID-19.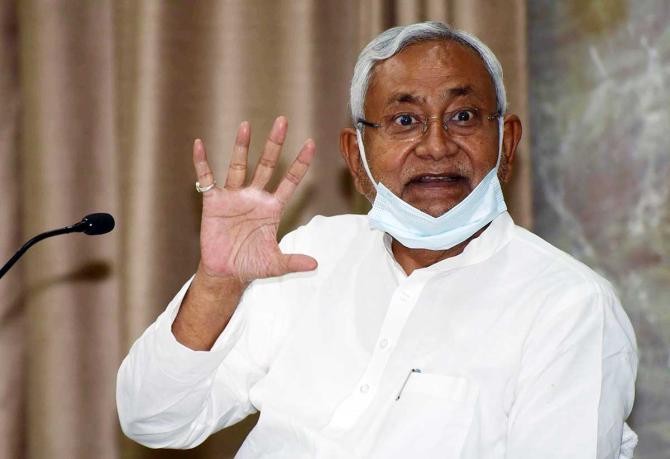 At the same time, in view of the frightening COVID-19 situation in the state, Nitish Kumar announced on Tuesday that Bihar would be under total lockdown till May 15.
The decision about the lockdown was taken a day after the Patna high court observed that the state government has failed in controlling the COVID situation and that either the state government had to declare a lockdown or the HC would have to pass an order to ensure it happened.
The court's observation came after a slew of COVID-related deaths in Bihar due to lack of oxygen, proper treatment and a shortage of beds and medicines in hospitals.
Which is why the latest move to reduce testing -- the testing rate has decreased over the last six days -- comes as a surprise. It also raises questions about the state government's seriousness in dealing with the fast spreading virus as reports of more COVID cases and deaths pour in each passing day.
As per official figures, Bihar has tested:
Despite the decrease in the testing rate, the number of positive cases is growing.
On March 30 this year, Bihar had reported only 74 positive cases, with April seeing a steep increase.
According to official data, though testing has decreased in the last five days, more than 500 people have died due to COVID in the state.
With 107,667 active COVID-19 cases in Bihar as on Monday, May 3, the rural areas are -- unlike last year -- in the grip of the novel coronavirus, which has claimed lives in hundreds of villages on a daily basis. But this tragedy hardly gets any mention in the media.
Due to a lack of testing facilities and basic health infrastructure in rural areas, most people with clear symptoms of COVID-19 (high fever, cough, weakness and breathlessness) have been diagnosed as suffering from typhoid or a viral flu by local self-proclaimed doctors.
The government has also not clarified about the percentage of the kinds -- Reverse Transcription Polymerase Chain Reaction (RT-PCR) tests or Rapid Antigen Tests (RAT) -- of tests beings conducted. No such information is available in the government Web site either.
"We cannot share anything related to the different types of COVID tests being conducted. We have been asked not to say anything about official data related to COVID," said a senior health official.
Health experts have repeatedly pointed out in several studies that RAT may give false negative results and that the RT-PCR test is considered the most accurate method to detect COVID-19.
According to health officials, RT-PCR facilities are limited in district headquarters and are non-functional in several places.
Twelve days ago, state Health Secretary Pratay Amrit admitted that, of all the testing done in the state, between 60 per cent to 70 per cent are RAT and only 25 per cent to 30 per cent are RT-PCR.
Health officials in Patna added that the number of RT-PCR tests have not increased despite repeated criticism from the Patna high court.
Feature Presentation: Ashish Narsale/Rediff.com