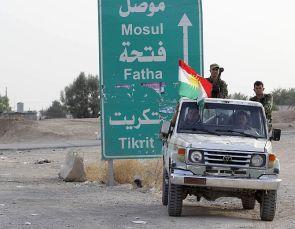 A day after it was set up, the Haryana government control room has so far got information about 45 persons from the state, stranded in strife-torn Iraq.
Majority of those stranded in Iraq hail from the northern parts of Haryana, including Yamunanagar, Kurukshetra, Karnal, Ambala and Kaithal districts.
According to an official release in Chandigarh on Thursday night, among the persons hailing from Haryana who are stranded in Iraq include 11 from various places in Yamunanagar district, 9 from Kurukshetra, 9 from Karnal, 10 from Ambala, 4 from Kaithal and 1 each from Sirsa and Rohtak districts.
Among those stranded include Suresh Pal, Jasbir Singh, Rakesh Kumar, Harjit Singh, Sukhwinder Singh, Naresh Kumar and Satnam Singh, all hailing from different places in Yamunanagar district.
Rajbir Singh of Bastali, Karnal; Rajesh Kumar, Mohan Lal, Sandeep, Sanjeev Kumar, all hailing from Kurukshetra district, Hemant Kumar from Mandi Dabwali in Sirsa, Monu from Rohtak, Amit Kumar from Ambala, Deepak and Baljinder Singh from Kaithal districts, are also among those stranded in Iraq.
Chief Minister Bhupinder Singh Hooda has given firm assurance that all-out efforts would be made for "safe evacuation of people from Haryana who have been stranded in Iraq."
Hooda said the state government is keeping a close watch on emerging situation in Iraq and is in constant touch with the Union Ministries of Home and External Affairs "to ensure safe evacuation of the people of the state."
The state government has set up a control room with telephone number 0172-5059197, which is functional round-the-clock where people can provide information regarding members of their family or relatives stranded in the strife-torn nation so that necessary steps can be taken for their safe evacuation, Director General, Information, Public Relations and Cultural Affairs Haryana, Sudhir Rajpal said.
If required, the state Government would bear the expenditure of bringing the people of Haryana stranded in Iraq back to India, Rajpal said.
He said the officers of the Union Ministry of External Affairs as well as Indian Embassy in Iraq were being contacted from time to time to get information about those stranded in Iraq.
Image: Members of the Kurdish security forces take part in an intensive security deployment on the outskirts of Kirkuk Photographs: Reuters