The Scorpene submarine doesn't have enough firepower; it will share 64 obsolescent SUT torpedoes till the Indian Navy is supplied with 100 heavyweight torpedoes -- a process that could take more than two years to complete.
Ajai Shukla reports.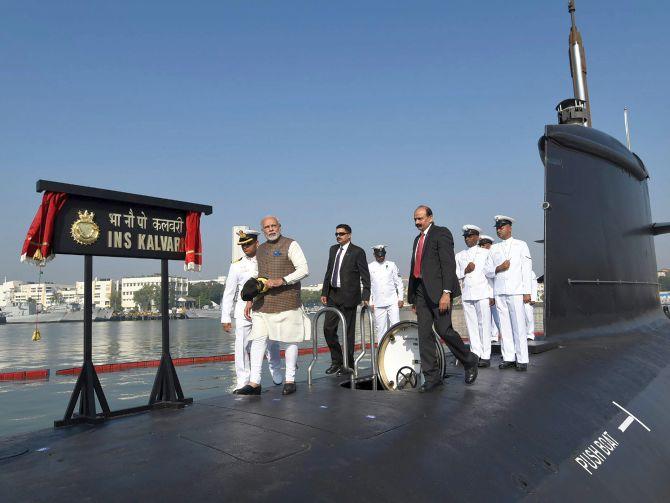 IMAGE: Prime Minister Narendra D Modi at the commissioning of the Scorpene-class submarine INS Kalvari at the Naval Dockyard in Mumbai, December 14, 2017. Photograph: PTI Photo
The defence ministry has issued a secret Request for Information to global torpedo firms, for supplying over 100 heavyweight torpedoes for the Indian Navy's Scorpene submarines, the first of which the INS Kalvari was commissioned on Thursday, December 14, 2017.
Prospective vendors are unwilling to speak since they have signed a non-disclosure agreement. However, three sources in the defence ministry and industry have verified this development.
While the torpedo RFI was issued in August, and replies received in November from at least three global 'original equipment manufacturers', a long wait lies ahead before the new torpedoes become available to arm the INS Kalvari and five more submarines that will follow it into service.
The defence ministry's Defence Procurement Procedure of 2016 allows 114 weeks (two years and three months) for concluding a contract -- in practice, an over-ambitious target.
After the contract, manufacturing and delivery would take another two, three years.
Until then, the navy's six Kalvari-class boats (as the navy refers to submarines) will share 64 obsolescent SUT torpedoes with and four HDW Shishumar-class vessels.
This is woefully inadequate if the submarine fleet has to fight a war.
Further, there are question marks over the efficacy of the SUT torpedo, even though German OEM, Atlas Elektronik, was contracted in July 2013 to upgrade 64 SUT torpedoes and extend their service life by 15 years.
It is learnt that the navy's new torpedo RFI went out to 5 to 6 torpedo OEMs, but will boil down to a contest between the French OEM Naval Group, which is offering its F-21 torpedo, and German firm Atlas Elektronik with its Seahake Mod 4.
It is understood that Russian and Japanese OEMs, and Swedish company Saab were also sent RFIs.
However, the Japanese did not respond; the Russian torpedo does not meet the Indian Navy's specifications; nor does Saab's which is driven by a combustion engine while the navy wants an electrically-driven torpedo.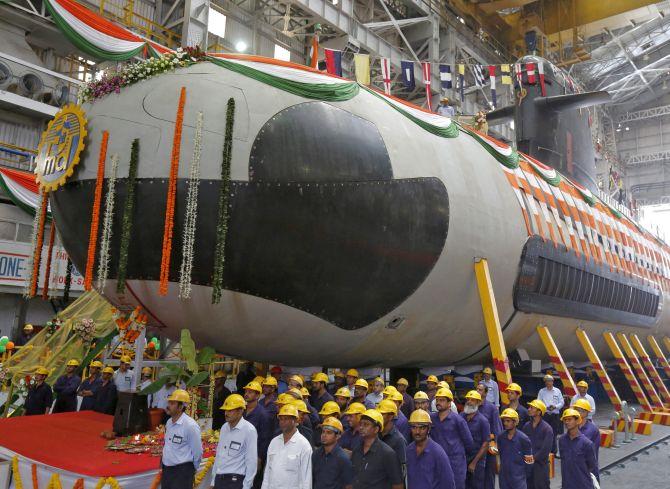 IMAGE: The Indian Navy's first Scorpene submarine being undocked from Mumbai's Mazagon Docks Ltd. Photograph: Shailesh Andrade/Reuters
The heavyweight torpedo is a submarine's weapon of choice for sinking warships and submarines, which it typically engages from 50 to 100 kilometres away.
Fired from a torpedo tube, it is driven through the water by a motor powered by electric batteries. It is guided towards the target by signals conveyed through a wire that unspools behind it.
Approaching the target, the torpedo switches to 'active guidance' using the on-board sonar.
When it slams into a target, an explosive charge detonates, creating an underwater hole that often causes catastrophic flooding, sinking the target vessel.
Besides torpedoes, submarines also carry anti-ship missiles such as the Kalvari's SM39 Exocet missile.
ASMs are fired through the same tubes as torpedoes, and they emerge from the water and fly, skimming the sea, towards their target.
But ASMs can be intercepted, and they are less lethal since they strike above the waterline.
The navy's torpedo deficit has arisen due to the blacklisting of Italian conglomerate Finmeccanica, after allegations emerged in 2012 of bribery in the sale of 12 AW-101 helicopters to India by a Finmeccanica subsidiary, AgustaWestland.
The defence ministry, on August 26, 2014, banned all new contracts with Finmeccanica group companies, including WASS, which had been chosen to supply 98 Black Shark torpedoes to India for the Scorpene fleet.
Global torpedo manufacturers believe India could be their largest customer.
Although the current procurement is for only 100-plus torpedoes, industry experts say the navy actually requires 400 to 600 torpedoes.
These are needed to arm six Scorpenes currently being rolled out, six Project 75-I submarines that are on the anvil, and a planned fleet of up to ten nuclear submarines.
With the cost of a heavyweight torpedo hovering around $2 million to $3 million apiece, that represents a business opportunity of $800 million (Rs 5,000 crore/Rs 50 billion) to $1.8 billion (Rs 11,500 crore/Rs 115 billion) -- a mouth-watering prospect for torpedo makers.
If the cost of the torpedoes the navy is currently buying tops Rs 2,000 crore/Rs 20 billion ($311 million), the OEM will incur a 30 per cent offset liability.
This would involve ploughing back 30 per cent of the contract value into Indian defence production. Since each torpedo costs an estimated $2 million to $3 million, a 100-plus-torpedo order would be on the offset threshold.
Industry sources say buying torpedoes piecemeal -- initially for the Kalvari-class, then for Project 75-I, and separately for the nuclear boats -- would disadvantage India.
Instead, a single order that combines India's torpedo requirements would result in cheaper prices through economies of scale; and also create a compelling industrial logic for transferring torpedo production to India.