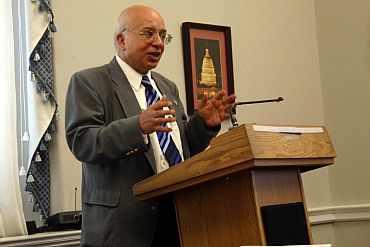 The Srinagar-born expert was consulted by the Bush administration when the US and India began negotiating the civil nuclear deal. Aziz Haniffa reports

Srinagar-born Dr Vijay Sazawal, 67, one of the foremost Indian-American nuclear experts in the country, has been re-appointed by United States Acting Commerce Secretary Rebecca Blank to serve on the Civil Nuclear Trade Advisory Committee for a further period of two years through September 16, 2014 when its current charter expires.
Sazawal was first appointed to this committee in January 2010 by the then commerce secretary Gary Locke, now the US ambassador to China.

Blank told Sazawal that she was pleased to appoint him to the CINTAC to help "in strengthening the export competitiveness of US civil nuclear products and services."
She said, "The CINTAC will provide consensus advice on the development and administration of programmes and policies to expand US civil nuclear exports and strengthen the competitiveness of the industry." "The expertise you will bring to this work is especially valuable," she told him.

Sazawal is currently the director of government programmes at USEC Inc, a leading supplier of enriched uranium fuel for commercial nuclear power plants worldwide. He was consulted by the Bush administration, particularly the departments of energy and state, when the US and India began negotiating the civil nuclear deal and was involved in 'Track-2' discussions preceding the completion of the 123 agreement with New Delhi.
At USEC, which he joined in 2002, in his capacity as director of programmes funded by the US government, Sazawal provides corporate oversight and coordination of various government projects. He analyses the impact of federal budgets, policies and regulations of various USEC activities, and interfaces with federal officials and with members of the US Congress. He is a member of the management team involved in the American Centrifuge Project, the leading initiative by USEC to build state-of-the-art centrifuge nuclear enrichment plants based on American technology.
Prior to joining USEC, Sazawal worked at COGEMA Inc, now Areva NC, for seven years as vice president of engineering and technology. Sazawal, who came to the US in 1970 for post-graduate studies, completed his doctoral degree in structural mechanics from the Michigan Technological University in 1975, and almost immediately joined Westinghouse Electric Corporation in the advanced reactors division as part of the design and technology team working on the Clinch River breeder reactor project.
He was with Westinghouse for 20 years during which he rose through successive management positions with responsibility for fast reactors, advanced terrestrial and space reactors, nuclear defence programmes, and US government programmes to promote safety upgrades of Russian-built reactors in Central and Eastern Europe. He was part of the Westinghouse transition team that took over management and operation of the Savannah River Site from Dupont Company in 1989.
Sazawal graduated from the Tyndale Biscoe Memorial High School and the Amar Singh College and holds a bachelor's degree in mechanical engineering from Banaras Hindu University and a master's in technology in materials engineering from the College of Technology in Bhopal. He is a member of the Sigma Xi, the American academy of mechanics, the American Society of Mechanical Engineers and the American Nuclear Society and has published widely authoring several technical papers and articles.
Excerpts from an interview, immediately after his re-appointment:
How do you feel about being reappointed to CINTAC and to continue to contribute to programme and policies to expand US civil nuclear exports and strengthen this industry's competitiveness?
I feel a great degree of satisfaction that my contribution during the previous term was recognised by the secretary. I strongly support the use of modern technology for betterment of people's lives and for eradication of poverty in third world countries. Nuclear power is an important tool in a toolkit that not only ensures a dependable supply of electricity mostly immune to market fluctuations in the price of fossil or renewable fuels, but also because it does not produce greenhouse gases and is therefore a clean energy.
What would your priorities be in this second term?
CINTAC deals with promotion of US goods and services related to nuclear power to the entire global nuclear market -- some 50 countries where nuclear power is either already producing electricity or where there are plans to develop nuclear power.

The committee addresses barriers within our own country in promoting such exports and addresses ways and means to ensure a level playing field in countries where non-American vendors may have an incumbent advantage. We provide recommendations to the secretary.
At a personal level, my priorities are to ensure that as the definition of American companies keep getting fuzzy in a world awash with multinational companies competing for the same markets, the US government support stays true to only those American-based companies that are truly owned, operated and controlled by a majority of US citizens and US interests. It may sound easy but it really is not.
Except for Japan, all major non-American nuclear entities in the world are controlled by foreign governments and I get very upset when US-based subsidiaries of these foreign government-owned companies start seeking US government support for marketing their products overseas. In effect, these foreign owned companies want to have the cake as well as eat it too.
What do you bring to the table in terms of your expertise?
It may sound a bit incredulous, but there are not many nuclear experts in the US with my breadth of experience that are still professionally engaged in a full-time job. I joined the fast reactor programme when President Nixon announced Project Independence to wean away the US from Middle East oil after the gas rationing of 1973. The programme was killed by President Carter as a show of good faith to the rest of world by denouncing the fast reactor as a proliferation risk. I have since worked on space reactors, defence reactors, reprocessing, spent fuel management, and finally in the last 11 years on nuclear enrichment.
I have worked for the three best companies in my 39-year career --Westinghouse, Areva (then called Cogema) and USEC. I am among the few who have worked on almost every technical aspect of nuclear power. What I bring on the table is not only rich and varied experience, but also a corporate memory of the nuclear power development in the US in the last 39 years.
How do you plan to contribute to full implementation of the US-India nuclear deal?
I have been involved in a non-official capacity -- Track-II-- offering suggestions to both the US government and the Indian government on achieving a successful closure of the deal, right from the time Prime Minister (Manmohan Singh) and President George Bush announced it in 2005.
I am also the subject matter expert for the US-India business council and contributed directly on technical merits for granting the US programmatic consent for reprocessing to India, something that in the past had only been granted to Japan and the European Union. I continue to be in touch with principal government technical and diplomatic negotiators from both the countries. There was considerable progress made last year and early this year in tying down the loose ends. The process still has some open issues, but I have no doubt that these issues will be resolved in time.
Many people out of ignorance think that negotiations with India have taken an inordinately long time, but in reality such discussions do generally take a long time and in fact the Indian case by no means is an exception.

Presently, I am trying to educate American companies in understanding how the nuclear plant owner-operator in India -- NPCIL -- conducts its "techno-commercial negotiations" that are impacted by two major non-nuclear related debacles that happened in India -- I am not even factoring in the Fukushima accident which looms large globally in its impact.

These historically important debacles are the Bhopal gas accident, and the Dabhol Plant shutdown, that led to Parliamentary laws in India that greatly affect how NPCIL conducts such negotiations. I will be speaking on the topic at a Nuclear Export Controls Conference at the Washington Hilton on March 21, 2013.
Image: Dr Vijay Sazawal