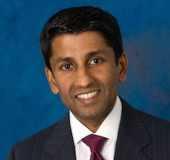 Described by United States President Barack Obama as a "trailblazer", Indian-American Srikanth Sri Srinivasan has moved closer to become the first South Asian circuit court judge in the history of the United States.
A year after he was nominated by Obama on the US court of appeals for the district of Columbia circuit, the senate judiciary committee on Monday announced its decision to hold his confirmation hearing on April 10, which was immediately welcomed by the White House.
Srinivasan, 46, born in India and raised in Lawrence, Kansas, is currently serving as the principal deputy solicitor general of the US.
"Sri (Srinivasan) is of course also a highly respected appellate advocate who has spent a distinguished career litigating before the US supreme court and the US court of appeals, both in private practice and on behalf of the United States for both Democratic and Republican administrations," White House Press Secretary Jay Carney told reporters.
"He has argued before the supreme court 24 times, drafted briefs and several dozen additional cases, and has also served as lead counsel in numerous cases before the federal and state appellate courts," Carney said after the announcement of dates for confirmation hearing for Srinivasan.
Twelve former officials from the solicitor general's office -- six of them Democrats, six of them Republicans -- all announced their support for him on Monday.
Carney said the signatories of the letter, including Paul Clement, Ted Olson, Ken Starr, and Walter Dellinger, wrote, "Sri has a first-rate intellect, an open-minded approach to the law, a strong work ethic, and an unimpeachable character. Sri is one of the best appellate lawyers in the country."
The DC circuit is often considered the nation's second-highest court, but it has twice as many vacancies as any other court of appeals, and its workload has increased by over 20 per cent since 2005, he said.
"Sri's confirmation will be an important first step to filling this court's four vacancies, and he will be, when confirmed, the first South Asian circuit court judge in history," Carney said as he urged the Senate to move swiftly to confirm the 15 additional judicial nominees waiting for votes.
Of those 15, 13 were approved out of the judiciary committee unanimously, not a single Republican dissent. And four would fill judicial emergencies, six are represented by Republican home-state senators who support their nominations, he noted.
Since the beginning of the year, the Senate has confirmed nine judicial nominees. "That is good," he said.
But it is worth noting that, on average, these nine judges waited 144 days for a floor vote, compared to the former president George Bush's nominees who waited an average of 34 days for a vote at this point in his presidency, Carney added.
"And it just underscores the seriousness of the situation, the uniqueness of the delay that we face in getting nominees confirmed, the arbitrariness of the delays when you have a situation where so many of them are voted out of committee unanimously and then never given a floor vote," he said.
"We urge that the senate act expeditiously to take up and consider and confirm this particular nomination, but also to move forward on these others," Carney said.
Srinivasan was first nominated by Obama on June 11, 2012. On January 2, 2013, his nomination was returned to the President, due to the sine die adjournment of the Senate. On January 3, 2013, Obama re-nominated him for the same office.
Srinivasan was born in Chandigarh, and grew up in Lawrence, Kansas. He received his BA with honors and distinction in 1989 from Stanford University and his Juris Doctor with distinction in 1995 from Stanford Law School, where he was elected to Order of the Coif and served as an editor of the Stanford Law Review.

In 2007, Srinivasan became a partner with O'Melveny & Myers LLP. In 2011, he was named the chair of the firm's appellate practice group. He was named as the principal deputy solicitor general in August 2011.