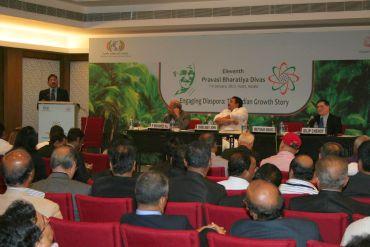 Even as India may be celebrating its status of being one of the youngest nations in the world, the challenges it faces are manifold. Rediff.com's Abhishek Mande sits in on a session on skills development at the ongoing Pravasi Bharatiya Divas in Kochi as ministers and bureaucrats make an appeal for investments.
What do you do with a country of 500 million untrained young people? Addressing the issue were P Mohamed Ali, the managing director of Galfar Engineering and Contracting co, Shibu Baby John, the labour minister of Kerala, Mrityunjay Sarangi, the secretary for the ministry of labour and employment of the Government of India and Dilip Chenoy, CEO and managing director of the National Skills Development Corporation.
Skills development has been a much-talked about issue for some time now. According to the 2012 National Employability Report 82.55 per cent of the engineering graduates in India are unfit for employment. (Read details of the report here.)
In May last year, Mohit Chandra wrote an open letter to India's graduating classes pointing out rather bluntly that they were far from being employable. "Most of your contributions will be substandard and lack ambition, frustrating and of limited productivity," he wrote adding, "We are gearing ourselves up for broken promises and unmet expectations.
And even as we celebrate the power of the youth and being young as the world grows old, the issue of how to train this young population to be employable remains a big question.
P Mohamed Ali started out the discussion making some valid, albeit obvious points -- that skills were catalysts for the growth of the individual AND the state; that skills were today's global currency and that skills must be kept updated.
Ali also pointed out that while we talk big about dignity of labour, we do not practice it and that every skill -- be it that of a cobbler or an IT professional -- was important in its own place.
The question that he raised, however, was this: How were we to build capacity for training 50 million young people to become employable?
Shibu Baby John, the labour minister of Kerala, a state that boasts of 100 per cent literacy rate, admitted that his state perhaps did not score as well on the skills scale. He stressed on the need to catch 'em young and introduce vocational training programmes right at the school levels.
"Industrial Training Institutes and polytechnics must be upgraded," he said, adding, "And the industry can do a lot here."
Adding that he hopes to transform employment exchanges to employability centres that would train young people in soft skills, the minister said that he hopes to concentrate on sectors such as construction, retail, tourism and hospitality.
"We will soon have India's first ITI for construction and infrastructure in Kerala that will offer better training for people wanting to be anything from a mason to an architect," he said, listing out some of the sectors including nursing, oil mining and private security that are hungry for skilled labour.
Mrityunjay Sarangi, who serves as secretary at the Ministry of Labour and Employment, Government of India, stressed on programmes for training the trainers as well as elaborated on training institutes that his ministry hopes to start in 'inaccessible' area blocks and skills development centres for which they are inviting partners.
Dilip Chenoy, the CEO and MD of the National Skills Development Corporation, made an impassioned appeal to the NRIs in the audience to invest in the skills development space that he pegged at $20 billion (about Rs 29,940 crore) a year. "There is no regulation," he said, "And you are free to earn profits as long as people are getting placed."
"If we are looking at training 500 million youth by 2022, it boils down to about 50-60 million youths a year and NSDC is here to help you do that," he said.
There are no useless people; only people who are used less, Chenoy pointed, "The question is how to make them part of the economy."
"According to a Mckenzie report, there would be a shortfall of 85 million skilled people globally. So the targets set in the12th Five Year Plans must not just be met but rather exceeded. Surely, you can't let the government do it alone," he said.
Image: (From left to right) Mrityunjay Sarangi (standing), P Mohamed Ali, Shibu Baby John and Dilip Chenoy
Photograph: Satish Bodas/Rediff.com