SHOCKING! Over 82% Indian IT engineers unemployable
| | | |
| --- | --- | --- |
| | | |
The national employability report compiled by Aspiring Minds revealed that only 17.45 percent of technical graduates in the country are ready to be employed. What this also means is that the rest, that is, 82.55 per cent, engineering graduates are unemployable.
Aspiring Minds, an employee assessment service provider recently released its annual national employability report which had alarming findings.
The survey that was conducted among technical graduates who graduated in 2011 from various parts of the country revealed that among the 5 lakh engineers who graduated last year, only 17.45 per cent are employable.
It further revealed that there are considerably more number of male students pursuing engineering and that the ratio of male-to-female engineers (1.96), is much lower than that of other countries, such as United States of America (4.61)
The report was compiled after sampling more than 55,000 engineering students who graduated in 2011 from 250+ engineering colleges across multiple Indian states. The analysis and findings of this report were based on the results of these students on AMCAT: Aspiring Minds Computer Adaptive Test, a standardised employability test.
AMCAT covered all objective parameters for determining employability in the IT/ITeS sector such as English communication, quantitative aptitude, problem-solving skills and computer science and programming skills.
The employability report identifies patterns in employability across different regions and kinds of colleges, analysing in detail the distribution of employability.
Click NEXT to find out more about the findings of the national employability report
'Concentrating on increasing quantity of engineers has impacted quality drastically'
The national employability report revealed the following:
The percentage of ready-to-deploy engineers for IT jobs is dismally low at 2.68 per cent
Even though India produces more than five lakh engineers annually, only 17.45 per cent of them are employable for the IT services sector, while a dismal 3.51 per cent are appropriately trained to be directly deployed on projects. Further, only 2.68 per cent are employable in IT product companies, which require greater understanding of computer science and algorithms.
There are considerably more males than females in engineering, but with equal employability
The ratio of male-to-female engineers is 1.96, which is higher than the population ratio (1.06), but much lower than that of other countries, such as United States of America (4.61). The percentage of employable male and female engineers is similar across sectors, yet the current ratio of females to males employed in IT industry is lower than that of the engineering population.
Concentrating on increasing quantity of engineers has impacted quality drastically
With regard to employability percentage in different states, it was found that employability decreases logarithmically with the number of colleges in the state (in sync with Arrow's hypothesis). This clearly shows that opening more colleges is directly impacting the percentage of employable engineers graduating every year.
The long tail of employable engineers is getting missed out by corporations
It was found that 50 per cent of employable candidates for IT services companies and 28 per cent of employable candidates for IT product companies are not even in the top 750 colleges, and thus form invisible pool to most employers.
The quality of education varies drastically, with only a very few colleges at the top of the quality ladder
large number of colleges are at exceptionally low employability: bottom 45 percentile campuses have less than 1 in 100 candidates employable in an IT product company, while the bottom 20 percentile campuses have none.

Employability by sectors
The survey analysed employability across sectors like IT products and services, knowledge process outsourcing, hardware networking and business process outsourcing that hired technical graduates.
It was found that Business Process Outsourcing sector topped the employability ranking with 40.69 per cent.
Hardware networking followed next with 36.57 per cent and IT services employing 17.45 percent of graduates.
Other sectors like IT product and knowledge process outsourcing showed employability less than 10 per cent.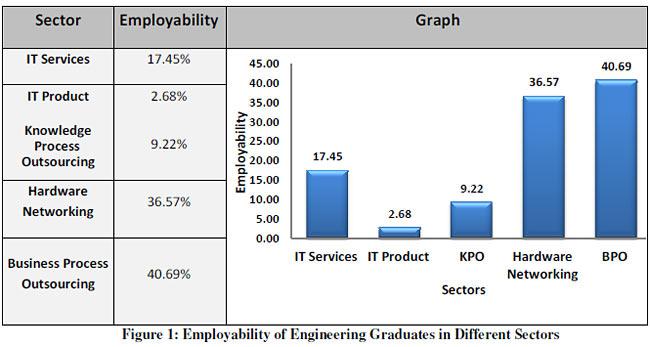 Image:
Employability by sectors
Employability by gender
The report analysed the gender-ratio changes with respect to the state of the campus.
It was found that employability for males and females is almost equal across sectors. It also revealed that the opportunities were also the same for both.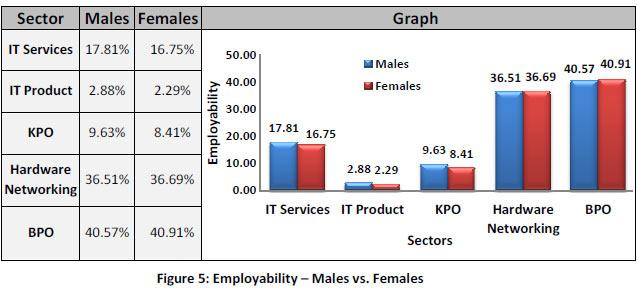 Image:
Employability by gender
Women scored less in Quantitative Ability
Further, the report revealed that there was a slight difference in the employability of males and females due to the difference in their Quantitative Ability scores.
While men scored 505 in QA, women managed to score 470.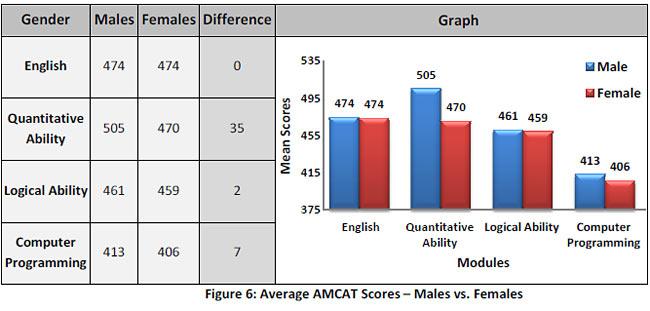 Employability by cities
The report studied the employability by tier of city, across states, and the employability variation between metros and non-metros and some key large cities.
While tier 1 cities comprised of those having a population greater than 25 lakhs, tier 2 consisted those cities with a population between 5 and 25 lakhs while tier 3 of population below 5 lakhs.
There was a consistent drop in employability in all sectors according to the tier of city of the campus location. Among different sectors, drop in employability from tier 1 to tier 2 cities is maximum in the IT products and KPO sector.
This shows that when higher-level skills are required (English, in case of KPOs and technical ability in case of IT Products), there is a larger variation between talent quality in tier 1 and tier 2 cities.
Data further revealed that at least 12 per cent of engineers (approx 13,000) employable in IT services are in tier 3 cities.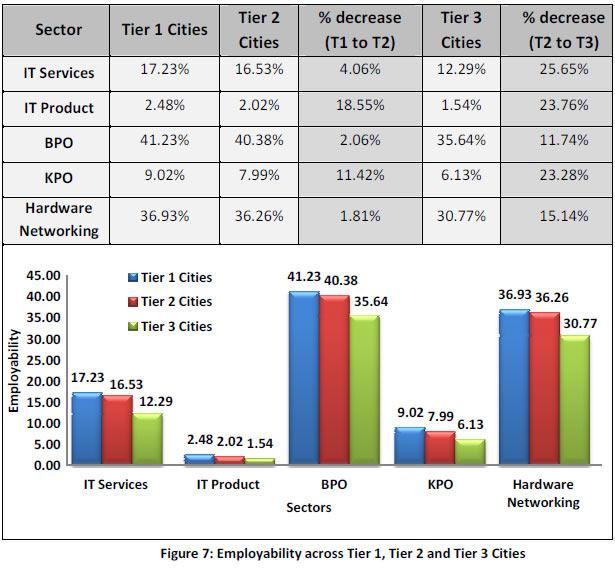 Image:
Employability by region
Employability across states
The report revealed that employability in IT services companies is highest in North, followed by East, then West, and then South.
The states of Delhi and Bihar-Jharkhand showed highest employability.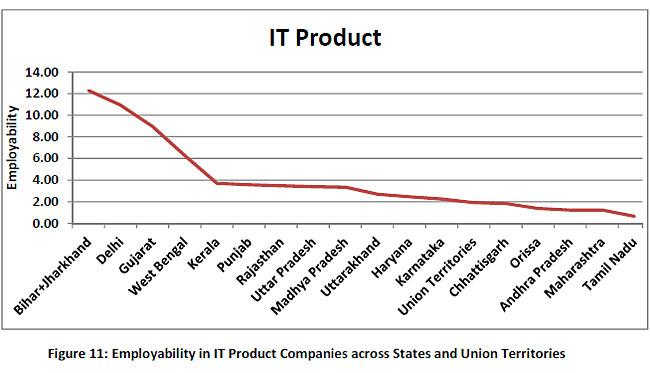 Image:
Employability across states
Employability in metros vs non-metros
Even though colleges in non-metro cities have lower employability, the difference is not much.
Only the decrease in employability is much higher for which English comprehension and writing skills are very important.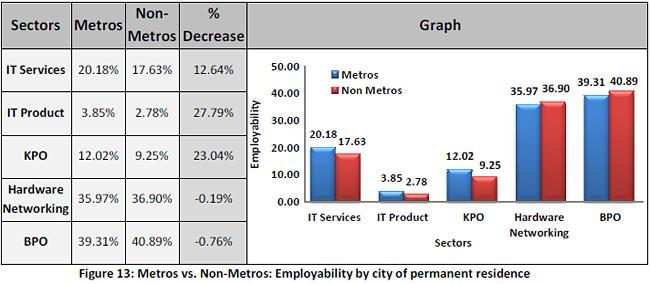 Image:
Employability in metros vs non-metros
Number of engineering colleges vs population
The report stated that the proliferation of engineering colleges in southern and western India has brought down the employability figures.
In comparison, there are far fewer engineering colleges in Delhi and Kolkata.
This is despite the fact that the population of Delhi is much more than Southern cities being comparable to that of Mumbai.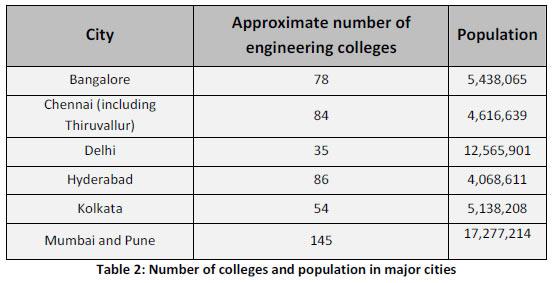 Image:
Number of engineering colleges vs population