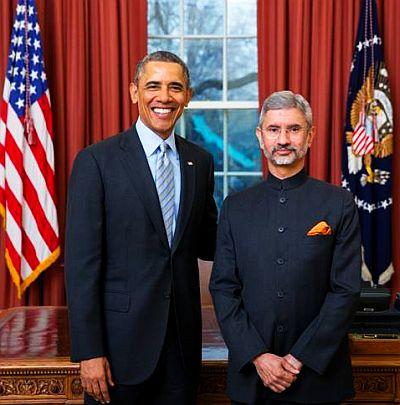 India's Ambassador to the United States Dr S Jaishankar told Rediff.com's Aziz Haniffa that it was "a very nice meeting and President Barack Obama was extremely cordial."
Two-and-a-half months after his arrival in Washington, DC on Christmas eve -- slap-bang into the middle of the raging India-US diplomatic spat over the Devyani Khobragade controversy -- India's new Ambassador to the US Dr Subrahmanyam Jaishankar formally presented his credentials to President Barack Obama in the White House Oval Office on Monday.
Dr Jaishankar was among six new ambassadors to the US who presented their credentials to Obama and followed second after the Tunisian ambassador, with Pakistan's Ambassador Jalil Abbas Jilani coming in third, followed by the ambassadors of Belgium, Qatar and Papua New Guinea in a traditional ceremony that is considered the official imprimatur of a new envoy's service in the US.
Dr Jaishankar told Rediff.com that it was "a very nice meeting and the President was extremely cordial," and spent a few minutes with each member of his family, particularly his young son, Arjun, 14, "putting his arm around his shoulder and asking him how he was enjoying his new school and new friends."
Obama, the ambassador added, also briefly chatted with his wife Kyoko and his other children Dhruva Jaishankar and his wife Cassandra, and Medha Jaishankar.
Dhruva, 30, a senior fellow at the Marshall Fund in DC, and Medha, 28, an executive with Reliance Entertainment in its development of International Projects Division, who shuttles between Mumbai and Los Angeles, both told Rediff.com that the President had been "very nice and personable," asking them what they do and also exchanging pleasantries.
Dr Jaishankar told Rediff.com that "the meeting was quite personal, and I was told by the White House earlier that these credentials ceremonies are usually more personal," where the new ambassador generally exchanges pleasantries and get the opportunity to introduce his or her family to the President, but acknowledged that he and the President had also briefly discussed the importance of the India-US strategic partnership, most particularly the mutual benefit of significantly expanding trade and commercial ties.
The Indian embassy in a statement said, 'President Obama warmly welcomed Ambassador Jaishankar to Washington and wished him success in his responsibilities as India's next ambassador to the United States. The President said that US and India could accomplish a lot together.'
'Ambassador Jaishankar, in his remarks to President Obama,' the embassay added, 'conveyed warm greetings from the President and the Prime Minister of India to him and Mrs Michelle Obama.'
The statement also noted that 'Ambassador Jaishankar assured President Obama of his commitment to expand key pillars of the bilateral relationship including economic relations and trade ties, defence and security, energy, science and technology and global issues.';
On his return from the White House, Dr Jaishankar hosted a luncheon for a select group of senior administration officials, Congressional staffers, some leading business leaders, and media to celebrate his presentation of credentials, and joked, to peals of laughter, "As you know, I presented my credentials to President Obama and he seems to have checked out the credentials and found it OK."
"He allowed us to have a nice photograph and we had great conversation and he mentioned that his administration looks forward to working with me."
Dr Jaishankar told the guests, "I guess, when he speaks about that it really means all of you, and of course, for us, the relationship with Congress, the relationship with the media and with the business community in this country."
"This is really what makes for our relationship, and as I am formally signing on today," the ambassador said, "I thought the best thing to do would be to really call all the people I hope to work with for the rest of my tenure, and say, 'I am counting on you to get my job done."
Dr Jaishankar then thanked all the guests for coming at such notice and declared, "It is obviously an important day in my life -- personal and professional."
He noted that "I am very happy that my family, my wife Kyoko, my three children, and my daughter-in-law could all join me today, and as I said, It's a great day and it gets better when you share it with a lot of people."
Dr Jaishankar, son of one of India's leading strategic analysts and commentators, the late K Subrahmanyam, arrived in Washington after a four year stint in Beijing, and succeeded Nirupama Rao, whom he had replaced in China, when Rao returned to New Delhi on being appointed foreign secretary.
On December 26, he presented a copy of his credentials to the US State Department and then hit the ground running, meeting with Under Secretary for Political Affairs Wendy Sherman, and Under Secretary for Management Patrick F Kennedy, and then a luncheon meeting with Deputy Secretary of State Williams Burns and more than a dozen Congressional leaders on how the transformational US-India strategic partnership could be further nurtured and deepened and not get derailed as a result of the furore that has erupted over the Khobragade affair.
The Delhi-born Dr Jaishankar, 58, one of the protagonists who contributed to the protracted negotiations between the US and India that ultimately led to the signing of the US-India civilian nuclear deal, still has plenty on his plate, particularly on the trade front.
The next fire he will have to put out is to prevent India being put on the US Trade Representative's Special 301 Priority hit list for a plethora of alleged indiscretions from lack of protection of intellectual property to local content requirements that threaten to spill over into a trade war if the US imposes punitive sanctions on India.
Image: US President Barack Obama meets Indian Ambassador Dr S Jaishankar at the White House on Monday.
Photograph courtesy: Indian embassy in US