'Every index of the US-India relationship is pointing north. The time has come for us to set much more ambitious goals for ourselves,' says India's new Ambassador to the United States Dr S Jaishankar. Rediff.com's Aziz Haniffa reports from Washington, DC.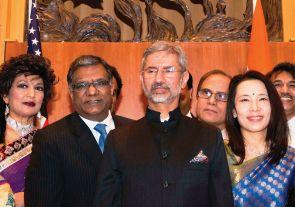 India's new Ambassador to the United States Dr Subrahmanyan Jaishankar outdid his predecessors in showering kudos on the Indian-American community for the role it has played in fostering the US-India strategic partnership.
The community, he declared, was the very basis for the transformation of bilateral ties. He was speaking at a recent reception in his honour organised by the National Council of Asian Indian Associations and Indian-American community organisations in the Washington, DC metropolitan region.
Dr Jaishankar said he is so proud of the community that he is elated to be 'seen as someone who's a reflection of that community.'
Speaking to a sold-out event of nearly 300 guests who packed the banquet hall of the Julia Bindeman Suburban Centre in Potomac, Maryland, the ambassador said at the outset, "It is both with a sense of responsibility and a sense of nostalgia that I speak to you today."
He said he would like to make three broad points.
"The first point is that everybody in the room realises and appreciates that India-US relations have changed dramatically," he said.
"Those of you who have been here longer feel that sense of change more sharply, but even someone who's been here just 10 years does realise that our relations have come a long way."
"I have been associated with this relationship for more than three decades, and so, I belong to the first category, and when one thinks about this transformation in our ties, it is natural to attribute it to some good diplomacy on both sides, to talk about changing geo-politics, which has made it possible for our nations to come together."
To sustained applause, he said, "But to me, one important difference -- in fact, I would regard it as the basis for the transformation of our ties -- is the Indian-American community."
"When an American today thinks of India, the image of India that comes to people's mind are their Indian-American neighbours, their Indian-American colleagues... the people who provide them services and advice of various kinds."
"This is a community, which is regarded as the best educated community, the highest income community, an extraordinarily responsible community."
"I must tell you that I am extremely proud to come here as ambassador and when I travel around, being seen as someone who's a reflection of that community."
"My second point is that as Indian Americans, it's remarkable how people have worn that dual-identity on their sleeves -- that at no point of time in our history have you actually seen the loyalties of India and the loyalties of America have pulled anybody in contrary directions. And, this is remarkable because our ties have not always been as good as they are today."
"So, even through difficult times, one of the commendable aspects of the community has been that you've all been good Indians, you've all been good Americans, and consequently, you've all been good Indian Americans."
"Now, as the community matures and the relationship matures, I hope that the community will step forward much more in public life. That the coming generations would see in public life an opportunity to pay back to America what America has done for this community."
"So, when I look at my tenure and beyond, I hope that I can see that change happen in the community. Of more people running for office, more people in office, more people aspiring for office."
"To me, that would be really a sign that the community has truly come of age."
The third point, Ambassador Jaishankar said, "relates to my own responsibility and goals that I see for the relationship."
Every index of the US-India relationship, he said, "is pointing north." But, he said, "The time has come for us to set much more ambitious goals for ourselves... I see the future of our relationship in areas which are still to my mind untapped."
These areas, he said, included not just education, "but knowledge, research. There are enormous number of areas where actually our two countries can work together. The second area I see is energy."
"Many of you would not realise that in less than five years -- in fact, in about three years from now -- the United States will emerge as one of the major energy providers of India. Natural gas from the United States will start to get shipped to India and that in itself would mean that the energy relationship is going to bring about a big change."
Image: India's Ambassador to the United States Dr Subrahmanyam Jaishankar with his wife Kyoko.