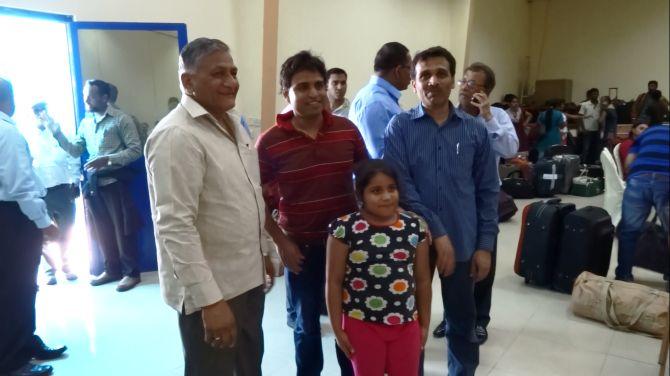 As many as 350 Indians on Wednesday reached Djibouti after being evacuated on a Navy vessel from Aden, the seaport city of strife-torn Yemen, and will be brought back to India by the Indian Air Force on Wednesday, External Affairs Minister Sushma Swaraj said.
Meanwhile, Minister of State for External Affairs Ministry V K Singh also reached Djibouti to oversee the evacuation operation launched by the government to rescue over 4,000 nationals in Yemen.
"Indian nationals evacuated from Aden by Indian Navy have reached Djibouti. They will be brought back to India by Indian Air Force on Wednesday.
"One plane will land in Kochi and the other in Mumbai late this evening. My colleague General V K Singh is coordinating the operations with Indian Navy and Air Force in Djibouti," Swaraj tweeted.
Out of 350 evacuees, 206 belong to Kerala, 40 are from Tamil Nadu, 31 from Maharashtra, 23 from West Bengal and 22 from Delhi besides other states, the Spokesperson in the External Affairs Ministry said.
The Indians were evacuated late last night by INS Sumitra, which was diverted from its anti-piracy patrol in the region. It waited for hours to get local clearances as heavy fighting was reported in the city.
Indian Navy ships Mumbai and Tarkash have also been pressed into evacuation efforts named 'Operation Raahat'.
The ships will escort two passenger vessels, Kavaratti and Corals, through the piracy risk area off the coast of Somalia. These passenger vessels had sailed from Kochi on March 30 to Djibouti.
The two warships will, thereafter, be available for evacuation of Indian nationals from Yemeni ports, as required.
The evacuated Indians will be flown into India by two Indian Air Force's C17 Globemasters.
Saudi-led coalition warplanes pounded Yemen's Shiite rebels for the sixth day on Tuesday, destroying missiles and weapons depots and for the first time using warships to bomb the rebel-held airport and eastern outskirts of the port city of Aden.
Image: Minister of State for External Affairs Gen (retd) V K Singh oversaw the rescue operations in Djibouti. Photograph: MEA/ Flickr