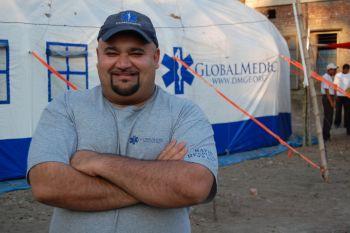 Rahul Singh is "honored and touched" that he is on the Time Magazine's 2010 list of 100 people who have significantly influenced the world in the 20th century.
With him on the list are US President Barrack Obama, former US president Bill Clinton, Winfrey Oprah, Steve Jobs, the chief executive officer of Apple, etc.
Singh, a paramedic in Toronto, sits at the head of GlobalMedic, a charity that he established 12 years ago largely for any major disaster relief operation, he told rediff.com in a phone interview.
Singh is one of the 100 most outstanding people who will be at the Time's Gala next week at Warner Center in New York City.
"In reality, this recognition is not for me as an individual but it is the recognition of the wonderful work that all of our 400 volunteers on our team are doing -- saving lives and so it is the recognition of their work.
"I am just a face taking the (Time's) award."
In their essay on Singh, Time has laid a great deal of emphasis on his work – including the work done by GlobalMedic in Haiti, the they are supplying clean drinking water and installed power generators and so on.
Singh said he and his team had gone to 50 different disaster areas in the last five years.
A reporter from Time in Haiti "saw the work that we were doing there and he got very impressed and started talking with us and maybe he recommended our name to his colleagues in New York".
Explaining his charity mission's work in Haiti, Singh said: "We put up two field hospitals, distributed medicines worth millions of dollars, installed 60 water purification machines. We distributed 5 million water purification tablets, we are giving 1,50,000 litres of clean drinking water and so far we have purified 12 million litres of water.
"We also installed 39 power generators there," Singh added.
He was happy that in case of Haiti "corporate Canada supported our efforts, as they know that in case of GlobalMedic if you give us a generator on Tuesday morning, it will be on the plane on Tuesday and will be installed in Haiti on Wednesday to provide power to the hospital".
GlobalMedic, Singh noted, "has created a structure  to the extent during the disaster period, we were sending our volunteers on motor cycles with small water purification machines to provide water to the people in the cities where cars couldn't move during that period."
One interesting aspect of the charity firm is that instead of relying on local volunteers alone, they also shift trained volunteers from a nearby country to other.
The volunteers of GlobalMedic went to Sri Lanka before the Tsunami, where they created a team of volunteers, which was then trained. 
"So when there was subsequently disaster in Burma (Myanmar), we asked our volunteers from Sri Lanka to move there to help people immediately. It is easier for us to send people from the same region, from neighboring countries than all the way from Canada.  If the disaster is of high magnitude and they can't handle, they alert us and we would be on our way."
Singh said they trained a cadre of volunteers wherever they went so that they could handle disasters in their own country and their neighborhood. They have done this in Philippines, Indonesia, Bangladesh, etc.
Singh said there had been no emergency call from India.
"India is self-sufficient and currently there hasn't been any major disaster. But we are ready and willing to leave on a very short notice in case there's a need."
Singh is likely to get opportunities to approach many wealthy people for help for his global charity when he meets them at the Time's Gala in New York.
Working as a paramedic in Toronto, so how do Singh and his volunteers get time and leave to go to different parts of the world?
"Oh, I and other volunteers take unpaid leave and we also use our vacations to do this work," Singh said.
"Many airlines give us free travel, for example Sky Service of Air Canada took us on their cargo plane to Haiti. Wherever we go we pitch in a tent to live there, or we just sleep in a hospital and any kind of inexpensive food is good for us."
He agreed that corporate Canada had reservations, as more than 80 percent of money given is spent by charities on administration.
"They give a generator but they are not sure whether it would reach the people for whom it is intended."
In case of Haiti relief, Singh was disappointed that GlobalMedic didn't get any help from the Canadian International Development Agency. "They have given us some help for some of our earlier projects but not this time, and so I was certainly disappointed."
Singh's father is from Delhi but his mother was born in Quetta (Pakistan) during the pre-Partition days.
He is a recipient of the Indo-Canada Chamber of Commerce Award for his disaster relief work.
Image: Rahul Singh