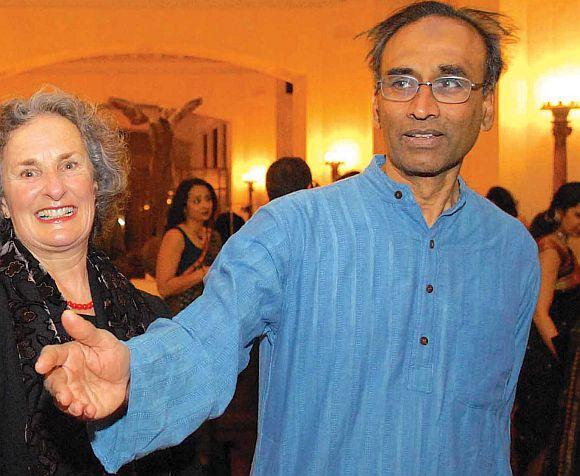 India-born Nobel laureate Sir Venkatraman Ramakrishnan has been confirmed as president elect of Britain's prestigious Royal Society.
The result of a ballot held by the fellowship was confirmed at a meeting of the Society's Council this week and Ramakrishnan, or Venki as he is popularly known, will take up the post on December 1, 2015.
"I feel very touched that the Royal Society has chosen me for this job, especially because I only came to Britain 16 years ago from the United States," said the 63-year-old structural biologist who shared the 2009 chemistry Nobel Prize for discovering the precise structure of ribosomes -- the molecular machines that manufacture proteins inside all living cells.
"I think in some ways the Royal Society, ever since its inception, has reflected the best traditions of openness in Britain. I think of Britain as a particularly open and tolerant society," he told BBC.
Ramakrishnan, who will be the first Indian-origin scientist to hold the post, was born in Chidambaram, Tamil Nadu, and studied biology in the US.
He is currently deputy director of the British Medical Research Council's Laboratory of Molecular Biology at CambridgeUniversity.
He was elected a Fellow of the Royal Society in 2003 and was knighted by Britain's Queen in 2012.
The Royal Society dates back to 1660 and its president is a key advocate for science in the UK and the world.
Previous presidents of the Royal Society have included Isaac Newton, Christopher Wren, Samuel Pepys, Joseph Banks, Humphry Davy, and Ernest Rutherford.
Ramakrishnan will succeed geneticist Sir Paul Nurse, also a Nobel laureate.
"Appointing the first Indian-born president of the Royal Society sends a strong message about the importance of the contribution of immigrants to British science," said Blakemore, a Royal Society Fellow from the School of Advanced Study, University of London.
The research for which Ramakrishnan shared the Nobel was commenced in the US, where he has spent much of his working life before moving to Cambridge in 1999. He shared the prize with Thomas Steitz, of YaleUniversity, and Ada Yonath, of the Weizmann Institute of Science, Jerusalem.
The award recognised the team working out, between 2000 and 2002, the exact structure of a key part of the ribosome, the tiny molecular machine -- found in the cells of our body -- that turns the genetic code of living beings into the proteins from which they are made.
"I knew the ribosome was going to be the focus of Nobel prizes. It stands at the crossroads of biology, between the gene and what comes out of the gene. But I had convinced myself I was not going to be a winner," he said of his award.
In winning the prize, Venki became the 13th member of staff of Cambridge's Laboratory of Molecular Biology to win a Nobel; previous winners include Crick and Watson, discoverers of the structure of DNA.
MUST READ: