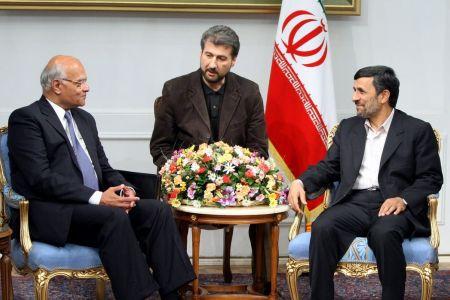 Iranian President Mahmoud Ahmadinejad says Iran and India need to help spread justice in the world as both countries share humane perspectives on international affairs. 
Ahmadinejad spoke in a meeting with India's National Security Advisor Shiv Shankar Menon on Monday in Tehran.
"Currently, the formation of a new world order is of prime importance and it is upon the independent countries to prevent the same old oppressive order from insinuating itself into a new form," Ahmadinejad said.
On his website, Ahmadinejad underlined the role of Iran's and India's cultural background and said the issue of culture would contribute significantly to the new world order. Ahmadinejad also called for further cooperation between Tehran and New Delhi.

Menon, Prime Minister Manmohan Singh's trusted aide, emphasised India's relations with Iran and expressed India's willingness "to establish all-out strategic relations with Iran."

Menon's visit to Tehran is being viewed as a visit "at the right time in right place" by experts. It's believed that Dr Singh may visit Tehran later this year to start a new chapter of Indo-Iranian relations.
In view of the radical changes sweeping in the Middle-East, Iran's importance in the region has increased manifold.
Iran is India's second-largest oil supplier after Saudi Arabia, with New Delhi importing 12 million barrels of Iranian crude on a monthly basis. Trade volume between Iran and India reached almost $13 billion in 2007 after business between the two countries jumped by 80 percent. India imported 21.3 million tons of crude oil from Iran from March 21, 2009 to March 21, 2010.
Menon also met Iran's Supreme National Security Council Secretary Saeed Jalili along with officials from both sides.
According to the Tehran Times, both sides explored ways to expand bilateral cooperation in various areas and called for the implementation of the agreements signed between Tehran and New Delhi.

The Iranian and Indian officials also exchanged views on the latest developments in the Middle East and North Africa and discussed ways to help resolve the challenges facing the global community, the Tehran Times said. 

Image:  Indian NSA Shiv Shankar Menon meets Iranian President Mahmoud Ahmadinejad in Tehran on Monday.