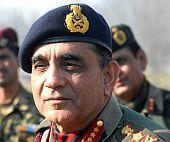 Nepal President Ram Baran Yadav on Thursday conferred the honorary rank of General of the country's army on Indian Army Chief General Deepak Kapoor in the presence of top dignitaries in Kathmandu, underlining the close relationship between the two forces.
The top Indian general received an insignia, sword and citation from President Yadav at a special function in the Rastrapati Bhawan on Thursday evening.
Defence Minister Vidya Bhandari, Nepal Army Chief Gen Chhatraman Singh Gurung and Indian Ambassador to Nepal Rakesh Sood were among the top dignitaries present at the function in Sheetal Niwas.
The honour for General Kapoor comes after Nepalese army chief General Chhtra Man Singh Gurung was conferred with the honorary title of General of the Indian Army by President Pratibha Patil in New Delhi on December 14, upholding a six-decade-old tradition.
Indian General N C Vij had also received the top honour in 2003 from the then King Gyanendra, who was deposed by the 601-member Constituent Assembly in 2008.
Earlier in the afternoon, the Indian Army chief met Prime Minister Madhav Kumar Nepal and the Defence Minister at Singhdurbar secretariat.