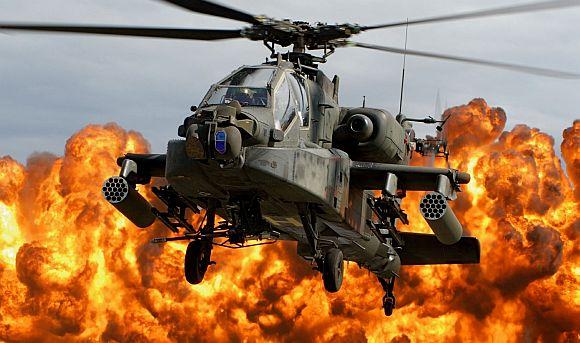 'I couldn't think of a more visible strategic form of cooperation than both of our armed serves using a similar weaponry jointly developed together.' Aziz Haniffa/Rediff.com reports from Washington, DC on what is expected in the India-US defence relationship during Prime Minister Modi's visit.
The US aerospace and the defence industry is not holding its breath that sales of any big ticket items will be done during Prime Minister Narendra Modi's visit.
Rahul Madhavan, who heads the Aerospace and Defense division at the US-India Business Council, said Modi's visit "is not going to have huge big ticket items associated with the defence sector, but that is not a matrix for the success of his visit."
Speaking at a conference hosted by the Centre for Strategic and International Studies previewing Modi's visit to Washington, DC, Madhavan asserted, "I see it (the Modi visit) more in the lines of this brand new initiative of co-production and co-development, and that really is a departure from the past dynamic that the US and India shared."
"Something like the Javelin Guided Missile would represent that -- an extremely attractive co-development, co-production opportunity whereby the Indian Army would be the end-user of the same system that the US Army currently uses and then we would jointly develop the next generation with extended range, etc, of this guided missile," he added.
"I couldn't think of a more visible strategic form of cooperation than both of our armed serves using a similar weaponry jointly developed together," Madhavan said.
He cited as an example, "The next presidential helicopter fleet -- if the VVIP helicopter bid were to be reset -- those S-92 helicopters, the cabins are built in Hyderabad. So, the US presidential helicopter cabins would have been built in Hyderabad."
"The co-development and co-production represents a new dynamic and shift," he argued, "whereby the US government are partners, are much more forward-leaning and progressive in bringing sensitive technology to India."
"Some may ask, what are the Indians' expectations?" Madhavan said.
"They want advanced transfer of technology, they want the DRDO -- an entity we had blacklisted after Pokhran II in 1998 with sanctions after their nuclear tests -- interlocuting about tech transfer and this is all a brand new environment literally in the past 3, 4 years."
"I see no greater form of evolution in a bilateral relationship than I do in our defence relationship with India, because we were zero eight to 10 years ago," Madhavan said.
He predicted Modi's visit "is going to open the door for a very strong, robust level of cooperation," and said, "You need necessarily a certain level of political impetus to push this forward."
"The defence relationship has been somewhat stalled over the course of the past few years," he noted, and attributed a "lot of that once again with market opportunity."
"When you don't have enough capital to put down -- payments down on some of your major acquisitions -- that will necessarily be a slowdown, plus, those who may be familiar with the defence sector in India, mired in controversy surrounding corruption scandals."
---
USIBC board member slams India's 'mixed signals to investors'
'Our entire trade with India is less than our trade with The Netherlands, a country with a population less than Mumbai...' Aziz Haniffa/Rediff.com listens in.
Susan Esserman, former Deputy United States Trade Representative, has slammed India for torpedoing the Trade Facilitation Agreement at the World Trade Organisation.
Esserman is a senior and influential board member of the US-India Business Council, which will host Prime Minister Modi at his final event during his five-day US visit.
Calling it an about-face by India after first supporting the TFA, Esserman, a partner with the international law firm of Steptoe and Johnson, said India's WTO stand "send conflicting signals, undermining the Modi government's very strong message of change and his early positive steps."
"It was deeply disappointing and a source of concern as this is the first time I have seen India not follow through on a firm WTO commitment it has made, especially in this case, where India played a central role in negotiating the final terms of the very deal that they have declined to implement and ratify," she added.
Esserman was the lead speaker at a conference previewing Prime Minister Modi's visit and exploring its implications for trade, security, and the Diaspora. India's action was incomprehensible, she argued, because this was a case "where India stood to gain from implementation of the TFA and where the agreement India brokered, protected it from current challenges to its food-stockpiling program."
"Ironically," she continued, "by blocking the agreement, India stands to lose on both fronts, And, more fundamentally, this raises the question of how India views its role in the international trading system -- how it approaches international agreements, how it sees its role in the broader Asia trading environment, and how it sees trade liberalisation fit with its economic mission."
"My hope is that the July stance on trade facilitation is not indicative of its ultimate position on these broad questions..." Esserman said. "It is early days in the Modi administration and that the new government has not yet developed its overall architecture and approach for India's global trade engagement."
Indian officials tore into Esserman's contention. She was conveniently omitting the period from the Bali conference and July this year, they said, when India's continuing concerns about food security had been largely ignored. While 38 meetings had been held on the TFA, only four meetings were held on food security and food-stockpiling, they insisted.
One official told Rediff.com, "How come she doesn't speak about what happened between Bali and this July and the number of meetings held on TFA compared to our concerns of food security?"
In her opening remarks at the conference, Esserman said, "The last few years have been especially challenging for our bilateral economic relationship with backsliding in India on a broad range of economic trade policies, income tax to intellectual property, affecting many sectors and companies both Indian and American."
"The unpredictability, the uncertainty, the lack of transparency of government actions added to the very difficult business environment sending very negative signals to the investor community and causing some companies to question their commitment to the Indian market," she added.
For all the hype about the quadrupling of US-India trade over the past 10 years, Esserman said these numbers paled into insignificance when compared to the level of US-China trade.
"All the goods that India imports are less than 5 percent from the United States and of all the goods that United States exports, less than 2 percent go to India..." she noted, pointing out, "Our entire trade with India is less than our trade with The Netherlands, a country with a population less than Mumbai."
Please click here for full coverage of Prime Minister Narendra Modi's US visit
Image: AH-64 Apache attack helicopters. Photograph: US army