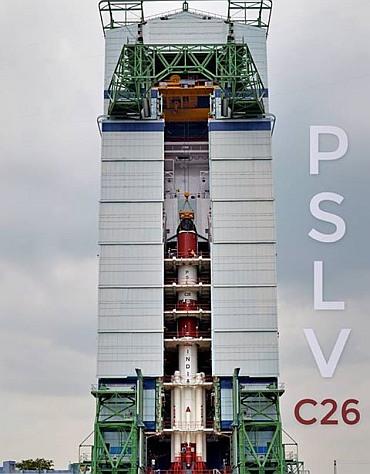 The launch of IRNSS IC, the third of seven satellites in the series to put in place India's navigation system at par with US' Global Positioning System, that was deferred following a technical snag has been rescheduled for October 16.

"The launch of the third satellite of the Indian Regional Navigation Satellite System, IRNSS 1C by PSLV C26 from Satish Dhawan Space Centre, Sriharikota is rescheduled to 01:32 am (IST) on October 16, 2014," ISRO said on its Facebook page.

Based on the mission requirements, the launch window is 01:32 am to 01:47 am IST, it added.

RNSS 1C with a lift-off mass of 1,425.4 kg was earlier scheduled to take off on board the 28th flight of India's rocket PSLV-C26 at 1.56 am on October 10 to be shot into a sub Geosynchronous Transfer Orbit (sub GTO),
but it was postponed due to an observation in the telecommand system.
As part of its aspirations to build a regional navigational system equivalent to Global Positioning System of the US, ISRO plans to send seven satellites to put in place the Indian Regional Navigational Satellite System.
The first two satellites in the series, IRNSS 1A and IRNSS 1B were launched from Sriharikota on July 1, 2013 and April 4 this year respectively.
IRNSS' applications include terrestrial and marine navigation, disaster management, vehicle tracking and fleet management.