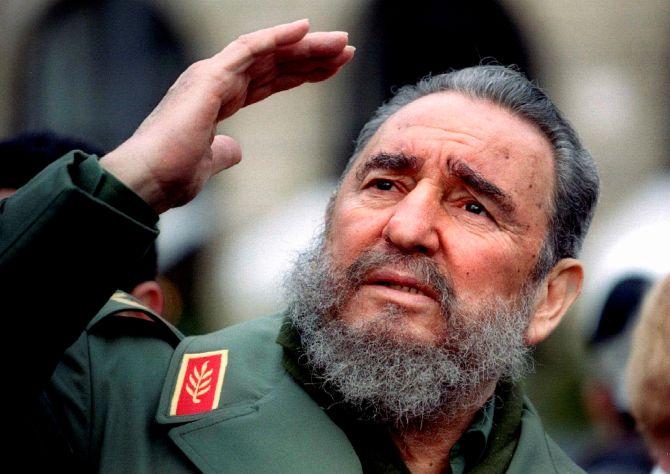 President Pranab Mukherjee, Prime Minister Narendra Modi and other Indian leaders condoled the demise of Cuban leader Fidel Castro on Saturday.
PM Modi described Castro as one of the most iconic personalities of the 20th century and a 'good friend' of India.
'I extend my deepest condolences to the government and people of Cuba on the sad demise of Fidel Castro. May his soul rest in peace,' he tweeted.
'Fidel Castro was one of the most iconic personalities of the 20th century. India mourns the loss of a great friend,' the prime minister said in another tweet.
He said India extends support to the Cuban government and its people in this tragic hour.
'Heartfelt condolences on sad demise of Cuba's revolutionary leader, former President and friend of India, Fidel Castro,' tweeted President Pranab Mukherjee.
Congress chief Sonia Gandhi describing Castros' death as a loss not limited to Cuba or a particular ideology. She said Castro led the oppressed and the striving from the front and stood up to every attempt at stifling the voice of freedom.
'His contribution to the Non Aligned Movement and his unflinching support for India's cause on various fora will always remain deeply etched in the minds and hearts of the Indian people,' she said in a statement.
Kerala Chief Minister Pinarayi Vijayan said Castro was a brave leader of world communism and will always be remembered as an inspiration for anti-imperialist movements.
'Castro was not just the leader of Cuban Communist party but the brave leader of world communist movement. Beyond that, he was the inspirational force of anti-imperialist movements the world over,' he said in a statement.
Describing Castro as a man of 'strong and unparalleled personality', Vijayan hailed the challenges he had posed to the imperialist policies of the United States.
Marxist veteran and former Chief Minister V S Achuthanandan said Castro's death was a 'great loss' to humanity in these days as imperialist forces were spreading its roots globally.
Describing Castro as a source of 'inspiration', Communist Party of India-Marxist general secretary Sitaram Yechury said he steered Cuba from a very backward country to what it is today.
"He steered Cuba from a very backward country to what it is today. It has got the world's highest rate of literacy, development in medical sciences where even the US sends doctors for training there. And he remained and remains a big revolutionary and source of inspiration," he said.
'End of an era. But revolutionaries like Fidel Castro live forever,' he said in a tweet.
In a statement, the Communist Party of India said 'Fidel Castro played a historic role in building the modern socialist Cuba, which is free from illiteracy, hunger and illness. Castro was great Marxist thinker and a legendary revolutionary fighter'.
'He was great friend of Indian Communist movement and India. He played remarkable role in the non-aligned movement giving it a new orientation,' the party said.
Expressing 'deep sorrow' over the demise of the former Cuban President, the CPI said, 'his demise is not just a loss for Cuba but for the whole world and for all revolutionary'.
Castro, who led a rebel army to improbable victory in Cuba, embraced Soviet-style communism and defied the power of 10 US presidents during his half century rule, died in Havana on Friday night.
General Secretary of the Communist Party of India-Marxist-Leninist Liberation Dipankar Bhattcharya, tweeted, 'Fidel Castro, the communist great who batted through the post-Soviet era, is no more. Red Salute Comrade, your mission will be fulfilled.'
Paying rich tributes to the departed Cuban revolutionary icon, Dravida Munnetra Kazhagam president M Karunanidhi hailed him as a 'lion cub' who grew to lead a rebellion in the South American country.
'A lion cub who grew to become a respected revolutionary leader in a small country, Fidel Castro is one of the greatest leaders I can never forget,' he said in a statement.
Condoling Castro's death, the 93-year old Karunanidhi expressed his sympathies with the people of Cuba and supporters of the former Cuban president all over the world.
He also recalled a poem 'presented' by him during an event to commemorate the Cuban revolution in Chennai a few years ago and hailed Castro's leadership.
Castro had ushered in lot of people-oriented welfare measures and had defied the US on many occasions, he said.
Bihar Chief Minister Nitish Kumar and Andhra Pradesh Chief Minister Chandrababu Naidu also expressed grief over the death of Castro.
In his condolence message, Kumar described Castro as a 'revolutionary leader' and a 'successful administrator'.
The Janata Dal-United president said he had a chance to meet Castro during a World Youth festival in Hawana in 1978.
Naidu said in a statement, 'In the fight against imperialist forces, Castro stood out as a warrior. He not only toiled to build Cuba, but also became exemplary of fighting spirit.'
Leader of Opposition in Andhra Assembly Y S Jaganmohan Reddy said Castro kept the Communist flag flying for decades.
'He showed the world how a small country could live on its own terms without bowing to external pressures,' Reddy said in a statement.
AP Congress president N Raghuveera Reddy and vice president S Sailajanath also mourned Castro's demise.
Photograph: Charles Platiau/Reuters