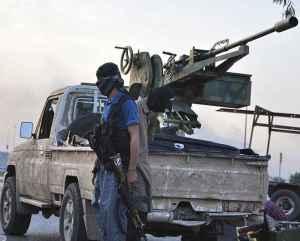 The ground situation in Iraq is so bad that there is no scope for any non-conventional action or any kind of bravery. Patience, slow movement, and full backing to Indian negotiators would help in a big way. Sheela Bhatt/Rediff.com takes a look at some frequently asked questions.
Who has kidnapped the 40 Indians in Mosul?
The ministry of external affairs has only said that 40 Indians have been kidnapped. Beyond that, they have not revealed much. In fact, MEA spokesperson Syed Akbaruddin even conceded, "We don't know where they are." This shows the gravity of the situation.
Addressing the media, Akbaruddin said the Iraq Red Crescent Movement has confirmed the abduction of 40 Indian nationals who were working for the company, Tariq Noor al Huda. He added that India has not received any ransom call yet.
Thus a human tragedy is unfolding right in the very first month of the new government. This may be a crisis that even experienced governments may find difficult to handle. It will test the Narendra Modi government in a big way unless somehow the news turns out to be untrue, or for some reason the kidnappers release the hostages.
The government in New Delhi is yet to settle down and its political personalities don't have any experience in dealing with such a situation. National Security Advisor Ajit Doval, who handled the Kandahar hijack crisis, does have experience and the background of the situation.
But who could be behind the kidnapping of the Indians?
In the absence of official information, one can guess, on the basis of what all we know about the unfolding crisis in Iraq, that an ultra-jihadi group which is worse than the Al Qaeda may be involved in the kidnappings. The group is called the Al-Dawla Al-Islamiya fi al-Iraq wa al-Sham in Arabic, or the Islamic State of Iraq and al-Sham, also known as the Islamic State of Iraq and Syria. It is a terrorist group dominated by Sunnis.
These jihadis are known for their deadly, violent ways. Like most such groups they want Islamic rule (caliphate) in what is called Levant, the geographical area which includes Iraq, Syria, Lebanon, Yemen, Egypt, Southern Turkey, Jordan and of course Israel and Palestine. This group's ambitions are sky-high and they want their rule extended over all Middle Eastern countries, not just Iraq and Syria.
In short, the ISIL/ISIS may have kidnapped the Indians, mostly Punjabis, the government thinks. However, we must state clearly that there is no official information about the kidnapers. So, wait and watch.
Who leads the ISIS?
The ISIS is led by Abu Bakr al-Baghdadi. In 2005, he was arrested by the Americans who had invaded Iraq in 2003. He was heading a small militant group then. He was in an American detention centre in Iraq but released later, and his control came into the hands of the Iraqi government.
After Osama bin Laden's killing he turned active and vowed to avenge Osama's death. He has a $10 million bounty on his head. According to the Western media his group controls around $ 2 billion, but more than money it is his army's presence on the ground that makes him dangerous.
What next for India?
Indian envoy Suresh K Reddy, who was ambassador to Baghdad from 2011 till three months ago, has knowledge of the ground realities in Iraq. That should help take charge of the next moves. It will be less difficult to find middlemen to reach out to the kidnappers than the actual negotiations.
There is mayhem in Iraq as sectarian violence is at its peak, with Shias and Sunnis fighting an unprecedented war. The emergence of a deadly force like the ISIL is considered by many as the culmination of the 2003 invasion by America of Iraq.
Chinamaya Gharekhan, former envoy of then prime minister Manmohan Singh to the Middle East, says the situation in Iraq, Syria and Lebanon is worse than the legendary battle of Karbala which took place in Iraq.
Prophet Mohammed's grandson Imam Hussein and another group led by Yazid had fought a historic battle at Karbala in which Imam Hussein was killed, his martyrdom being commemorated in the month of Moharrum to this day. The Shia-Sunni divide, forged then, continues even now, especially in Iraq.
The whereabouts of the 40 kidnapped Indians may not be known even to most of the rulers of Baghdad today, who are afraid that he ISIL may strike with force to take charge as they have done in Mosul and Tikrit. In such a situation, where the Iraqis and their government are unable to protect themselves or their people, and when there is a collapse of government, the police and army, what to talk about security!
The security forces of Iraq are melting fast before the jihadis. It is difficult to say how Indian envoy Suresh Reddy will reach out to the kidnappers and how the deal, if any, will be struck. But Gharekhan believes that to release the kidnapped Indians, New Delhi may have to pay a ransom. That's the best case scenario.
In a global event like this there is no free lunch. The ground situation in Iraq is so bad that there is no scope for any non-conventional action or any kind of bravery. India's options seem very limited. Patience, slow movement, and full backing to Indian negotiators would help in a big way.
Let us wait for more information and pray for the kidnapped Indians and not mess up by creating a frenzy. Remember how the frenzied public sentiment drove the Vajpayee government mad when the Kandahar hijack happened in 1999?