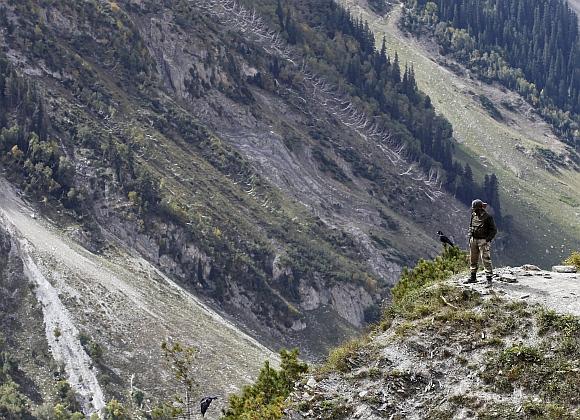 A day after the Chinese government pushed for settlement of the vexed boundary issue at "an early date", India on Tuesday responded by saying that it should be pursued as a "strategic objective" by the two countries.

India also pressed the need to have "clarification and confirmation" on the differing perceptions of the Line of Actual Control, saying if there was any forward movement on the proposal "we stand ready on that".
"Our conviction is that an early settlement of a boundary question will advance the basic interests of the two countries and we, therefore, feel that it should be pursued as strategic objective by both countries," Syed Akbaruddin, Spokesperson in the ministry of external affairs, said in New Delhi.

He was asked to react to the comments of Qin Gang, spokesperson and director-general of the information department in the Chinese ministry of foreign affairs.
Currently visiting India, Qin had stressed for an urgent need to "redouble our efforts to push forward framework negotiations (for boundary settlement) so that we can reach a fair, reasonable and mutually acceptable solution at an early date".

Significantly, the remarks come in the backdrop of recent Chinese incursion in Ladakh which had prompted many commentators to see it as a change of track by China which could be pushing for a faster settlement of the contentious boundary issue.

Noting that the issue has been discussed at special representative-level who have held 15 rounds of talks so far, Akbaruddin said "they have completed the first step i.e they have arrived at political parameters and guiding principles for the resolution of the India-China boundary question.

"Now, they are in discussions on the second phase which is related to the framework for the resolution of the boundary question."

He also said "India is committed to seek a fair, reasonable and mutually acceptable solution to the boundary question consultations."

Reiterating India's proposal of having clarification and confirmation on LAC in the India-China border areas pending the final settlement, Akbaruddin said "if there are attempts to move that forward, we stand ready on that because it was our proposal at that stage."

Noting that in the agreements done in 1993 and 1996 between India and China on the issue of LAC, there were clarifications on the differing perceptions on LAC and there were exchanges on it, the sources said that somehow in later years, this discussion went off the table from Chinese side, probably because there was a sense that it may be taken as default boundary.

"There is a need to revive this particular subject to prevent incident of this nature. Clarifications we really seek is imperative and is required. (Otherwise) This (Depsang incursion) kind of incidents could recur. This is something we would certainly flag," sources said.

Asked if the boundary issue will figure during talks between Chinese Premier Li Keqiang and Prime Minister Manmohan Singh, he said all bilateral, regional and international issues will be discussed.

Li will arrive in New Delhi on 19 May and will also visit Mumbai, where he will have attend a business meet.