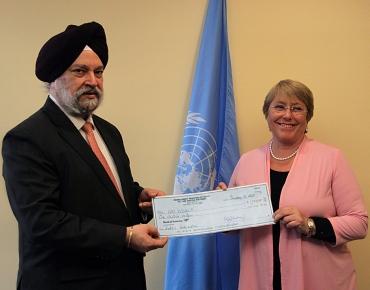 India on Tuesday contributed one million dollars to the core voluntary budget of the United Nations Women (United Nations Entity for Gender Equality and the Empowerment of Women) for the financial year 2012-2013.
This contribution constitutes the third installment of India's multi-year pledge to provide $5 million as core predictable funding to UN women's resources, and takes New Delhi's existing contribution to US$ 3 million so far.
The cheque was handed over by Permanent Representative of India to the UN Ambassador Hardeep Singh Puri to the Under Secretary General and Executive Director of UN Women Michele Bachelet.
Puri also reaffirmed the government of India's 'steadfast commitment' to the goals of gender equality, the empowerment of women and gender mainstreaming enshrined in the mandate of UN Women.
India is one of the founding members of the Executive Board of the UN Women and is presently serving on it.
Image: UN Ambassador Hardeep Singh Puri to the Under Secretary General with Executive Director of UN Women Michele Bachelet