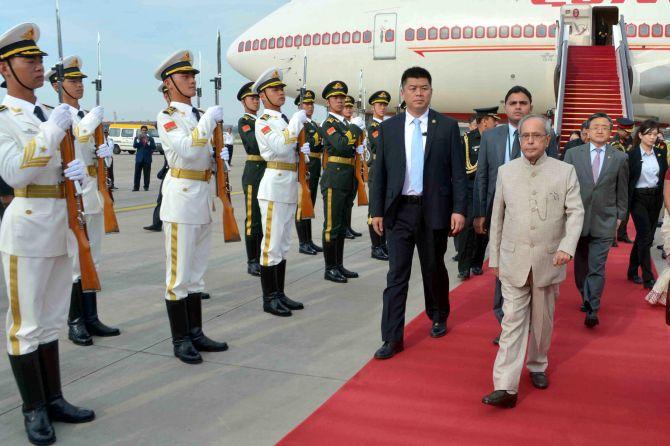 IMAGE: President Pranab Mukherjee being received by the Vice Minister of Foreign Affairs of China, Mr. Liu Zhenmin, on his arrival in Beijing, China. Photograph: PIB
Ahead of President Pranab Mukherjee's talks with the Chinese leaders, the state media on Wednesday criticised the western media for attempting to drive a "wedge" between the two Asian giants by "hyping up" competition between them over Iran's Chabahar port.
The visit of the Indian president, which follows Chinese President Xi Jinping's India trip two years ago, is set to open a new chapter in the development of bilateral relations and yield meaningful results for regional peace and stability, state-run Xinhua news agency said.
Mukherjee arrived in Beijing on Wednesday from Guangzhou after addressing a India-China Business Forum in which top Chinese and Indian businessmen took part.
He is due to have talks with Xi and other Chinese leaders on Thursday.
"But some western media have attempted to drive a wedge into China-India relations by hyping up competition between the two Asian giants," it said, specially highlighting Chabahar port which will be developed by India to open transit routes from Iran to Afghanistan and Central Asia, bypassing Pakistan.
"One of the latest targets of their (western media) smear campaign is a New Delhi-Tehran deal on developing Iran's southern port of Chabahar. The seaport is about 100 km from Pakistan's Gwadar seaport, which is co-developed by China. Those media claim the Elephant-Dragon rivalry is unavoidable," the commentary said.
"Such hype is both untrue and harmful. China and India do have differences, but those differences are outnumbered and dwarfed by their consensuses and aspiration for win-win cooperation," it said.
"The common interests and interdependence between China and India are deep and close, and robust enough to withstand the onslaught of those ill-intentioned Western media," it said.
"Yet, the distorted coverage of China-India ties lays bare a deep and unfounded bias against China among western media. Some just cannot wait to label any nation that has competition with Beijing as China's rival. Such confrontation-addicted reporting speaks volumes for their untold intentions," the commentary said.
"For the sake of global peace and stability, it is high time that those irresponsible Western media stopped starting fires and stoking flames and began to cover today's world, particularly those leading developing countries, without tinted glasses and a hidden agenda," it said.
Recalling Mukherjee's interview with Chinese journalists ahead of his visit in which he said India and China have witnessed "unprecedented expansion and diversification of bilateral relationship," the commentary said there was 23 fold increase in trade between the two countries in the last 14 years.
"In fact, the first 14 years of the 21st century witnessed a 23-fold-increase in the trade volume between the two partners. With frequent exchanges among their top leaders, the two neighbours have successfully developed deep mutual trust and profound common interest," it said.
"The two sides have reached consensus even on their thorniest issue -- the border dispute. India seeks a 'fair, reasonable and mutually acceptable' settlement of the question," and China is committed to working with India to accelerate the negotiation and solve the issue at an early date, it said.
The two countries have established a number of boundary-related mechanisms, including the Special Representatives' Meeting on China-India Boundary Question, whose 19th round was held in Beijing last month, it said.