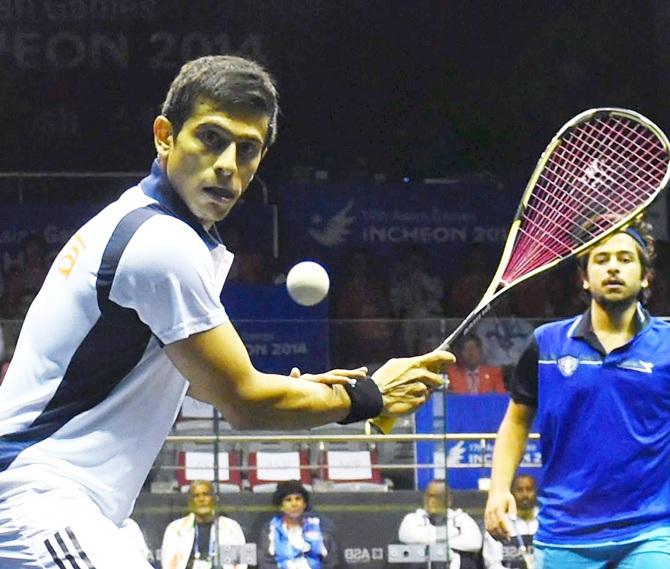 India's Saurav Ghosal (left). Photograph: PTI
India's squash players wrapped up a historic performance at the Asian Games, clinching an unprecedented men's team gold after the women's side settled for its first ever silver in Incheon on Saturday.
India are now in the 11th position in the medals tally.
Led by Ghosal, the Indian men's team edged Malaysia in the summit clash to claim gold.
Ghosal played out of his skin to guide India to a 2-0 win against Malaysia in a n energy-sapping contest that lasted two hours and 26 minutes at the Yeorumul Squash Courts here.
It was 25-year-old Harinder Pal Singh Sandhu, who started the proceedings for India on a positive note as he saw off Iskandar Mohamad Azlan Bin 11-8, 11-6, 8-11, 11-4 in the opening match that lasted 58 minutes.
World No.16 Ghosal then bounced back from a game down to eke out a 6-11, 11-7, 11-6, 12-14, 11-9 win over Ong Beng Hee in a gruelling 88-minute clash to give India a healthy 2-0 lead.
Ghosal had to dig deep against the Malaysian, who turned the tables in the fourth game which lasted 19 minutes.
In the decider, the Indian managed to keep his nose ahead and reached the match point at 10-8. Ong saved one but the Indian closed the door on his rival on the next opportunity to bring joy to the country's contingent.
The inconsequential third match between Mangaonkar Mahesh and Mohd Adnan Mohd Nafiizwan Bin didn't take place after the Indian withdrew from the contest.
Dipika wins historic silver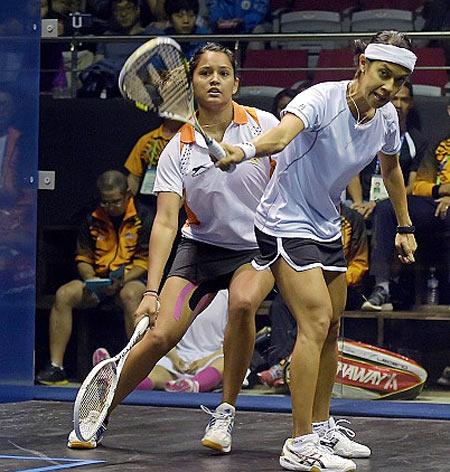 Malaysia's David Nicol Ann (right) returns a shot against India's Dipika Pallikal (left). Photograph: Getty Images
Earlier in the day, the Indian women's squash team went down to Malaysia 0-2 in the final to settle for the silver medal.
Deepika Pallikal and Anaka Alankamony lost their matches in a contest which lasted a little over an hour.
Alankamony opened the proceedings for India and did up some fight before going down 9-11, 10-12, 2-11 to Odette Arnold Delia in 43 minutes.
Next up was Pallikal, who once again faced World No 1 Nicol David after losing the singles semi-final to her earlier in the week.
The face off, however, did not yield a different result as Pallikal went down 7-11, 6-11, 3-11 in 29 minutes.
Joshana Chinappa's inconsequential final rubber did not take place after her rival Wee Wern Low withdrew from the contest.
India's compound archery team strike gold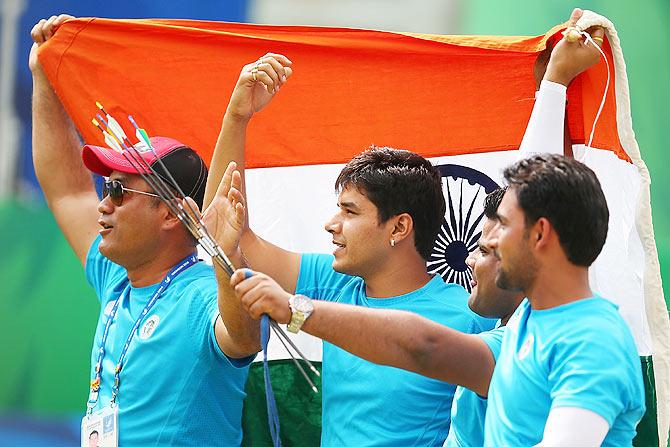 Joy was brought to India first thing on the day when the men's compound archery team picked up a historic gold medal.
Young archer Abhishek Verma was hero of the day as he combined with Rajat Chauhan and Sandeep Kumar to clinch the gold medal in the compound team event before picking up the individual silver medal at the Gyeyang Asiad Archery Field.
The spotlight belonged to the archers, who scripted history with their maiden compound gold medal by shocking favourites South Korea.
The women's trio had set the tone in the morning by clinching the compound team bronze by defeating Iran in the play-off for the third position at the Gyeyang Asiad Archery Field. Later, Trisha bagged a bronze in the individual event.
India defied odds to shock world archery powerhouse Korea 227-225 in the gold medal clash.
Rajat, Sandeep and Abhishek worked wonderfully well in unison to lead their formidable hosts -- the world silver medallists -- right through the 24-arrow finals to emerge triumphant by two points (227-225) in the non-Olympic Compound event which has made its debut in Incheon.
Trisha springs a surprise with bronze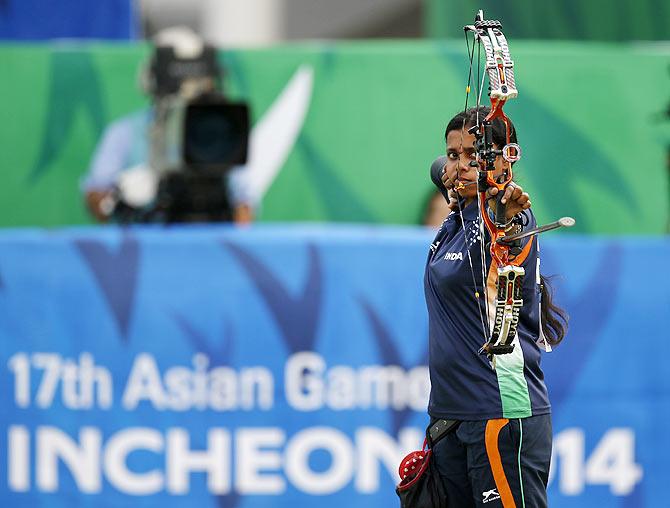 India's Trisha Deb shoots in her women's compound individual bronze medal archery match against Taiwan's Huang I Jou at the Gyeyang Asiad Archery Field during the 2014 Asian Games in Incheon on Saturday. Photograph: Issei Kato/Reuters
The men's archery gold was the second medal of the day and came just one hour after the young Indian women's trio of Trisha Deb, Purvasha Shende and Jyothi Surekha Vennam clinched the bronze medal by winning the play-off against Iran 224-217.
Later Verma fought gamely in the gold medal match against Iran's Ebadi Esmaeil 141-145. The superb display of the compound team made up to some extent the disappointing show put up by the recurve team of better known archers so far at these Games.
In what came as surprise, Trisha won a bronze in the compound women's individual event.
Trisha won 138-134 against Chinese Taipei's Huang I Jou. The Indian was lucky to finish on the podium given that she was trailing her rival till the last arrow.
Chain Singh snatches bronze medal
India shooter Chain Singh. Photograph: Getty Images
India shooter Chain Singh did himself and the country proud after winning bronze in the 50m 3-position rifle shooting event.
Singh shot a total of 441.7 points to finish behind Chinese shooters -- Cao Yifei and Zhu Qinan -- who bagged the first and second positions with 455.5 and 455.2 points respectively.
Chain Singh made the cut by finishing seventh in the qualifications with a total of 1164 points.
While Singh had entered the finals after finishing seventh in the qualification round, Gagan and Sanjeev failed to make the final cut, ending on 12th and 15th spots, respectively in the qualifiers.
Mary, Sarita Devi advance to quarters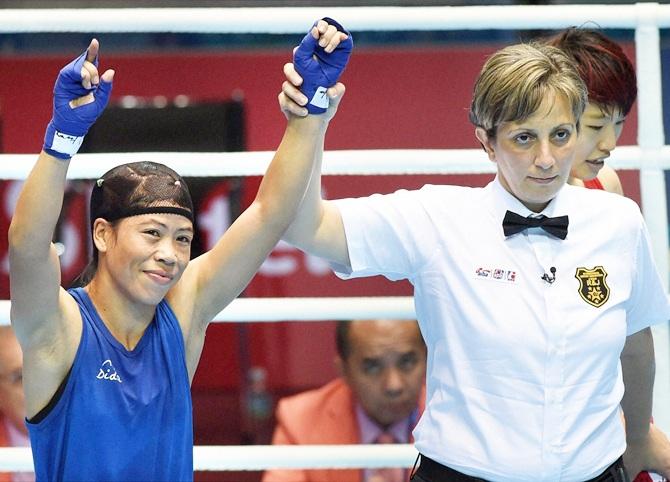 Indian boxer Mary Kom after winning her round-of-16 bout against Kim Yeji of Korea in the Womens 51 kg category event on Saturday. Photograph: PTI
Indian boxers also moved to the quarter-finals with easy victories over their opponents.
Olympic bronze-medallist M C Mary Kom set her campaign rolling in style by out-punching Korea's Kim Yeji to enter the quarter-finals along with two other Indian women boxers.
L Sarita Devi (60kg) and Pooja Rani (75kg) were the two others, who advanced to the last eight making it an all-win day for the Indian women pugilists.
Sarita got the better of home favourite Chungson Ri, while Pooja defeated Erdenesoyol Undram of Mongolia in her pre-quarters bout.
Indian TT players continue to impress
India's Achanta Sharath Kamal and company kept the country's hopes alive in table tennis as the men's and women's team paddlers won their respective preliminary round matches on Saturday.
The Indian men's team blanked Kuwait 3-0 in a Group B match.
Soumyajit Ghosh won a tricky battle against Albahrani Husain 11-1, 11-5, 5-11, 11-6 in 17 minutes. Kamal was next and he was quick to dispatch Albalhan Jaber 11-5, 12-10, 11-5 in just 15 minutes. Riding the 2-0 lead, Amalraj Arputharaj Anthony made no mistake against Alanssari Basel as he took the team to a 3-0 triumph with a 11-5, 11-8, 11-2 victory in 12 minutes.
Meanwhile, the Indian men's team got lucky in a Group A game when they got a walkover against Nepal.
The Indian women's teams also did not falter against Malaysia and Nepal in their respective group matches.
In a Preliminary Round Group A Division 4 game, the women's team comprising Manika Batra, Madhurika Suhas Patkar and Ankita Das beat Nepal 3-0.
Manika outplayed Shrestha Nabita 11-8, 11-5, 11-2, while Madhurika thrashed Kajol Rauniyar 11-5, 11-1, 11-5 in just 11 minutes.
Ankita had her task cut out when she came in last but was clinical in her win against Elina Maharjan 11-6, 11-5, 11-2.
The preliminary round Group A Division 2 match was no different as West Bengal star Poulomi Ghatak battled past Lee Wei Beh of Malaysia 11-9, 15-17, 11-8, 11-5 in just about half-an-hour's time.
Manika then had it a little easy against Ying Ho as the Delhi girl won the second match 11-5, 11-8, 11-7 in 18 minutes.
In the end, the much-fancied Neha Aggarwal won 11-6, 11-6, 11-4 against Lee Rou You.
India hockey team in semis
The men's hockey team also kept their medal hopes alive by advancing to the semi-finals with a scrappy 2-0 win over China in their last pool B match.
Volleyball team lose to China
The Indian women's volleyball team went down to a formidable Chinese side in straight games in the quarterfinal match.
The Indian eves lost 3-0 (25-11 25-12 25-10) against their more fancied opponents in a contest that lasted 54 minutes at Songnim Gymnasium.