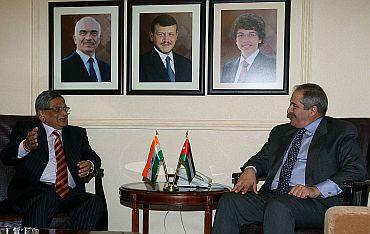 Agreeing to set the agenda for the next decade, India and Israel on Monday came together to raise a toast to each other with Israeli President Shimon Peres saying that India is the greatest democracy on earth and that Tel Aviv was following New Delhi with "great care and interest".

In his welcome address to External Affairs Minister S M Krishna, who arrived in Jerusalem on Monday on a two-day visit, Peres called Mahatma Gandhi a "prophet" and former Prime Minister Jawaharlal Nehru a "king".

Peres set the ball rolling by saying, "For us India is first of all a culture. Then it is for us the greatest democracy on earth and then the unbelievable achievement of overcoming poverty without becoming poor in freedom."

Peres also said he wishes India would become permanent member of the United Nations Security Council.

Talking about poverty, Peres said there is lot of poverty in the region "and by changing politics you don't necessarily change the situation".

His statement comes in the backdrop of the Arab Spring that has rocked the Middle East politics.

"India was fortunate that it had two great and unforgettable leaders -- one was a prophet and the other one was a king. The combination of Gandhi and Nehru is the most unusual," he said.

Peres, who has visited India twice since diplomatic relations between the two countries was set 20 years ago, said, "We are following India with great care and interest, not just in the political sense but being a citizen of the world, we think that without India and China hunger would govern the world".

Krishna complimented back on by calling Peres "a statesman of caliber".

He said only a few other such people are left in the world.

Krishna credited Israel for being an inspiration for India becoming self -sufficient in food production.

The minister recalled Peres' visit to India in 1992 and also in 2002 and credited him for setting up the agenda for strengthening the relations between the two countries.

"I think it's about time for the leadership of both the countries to set the agenda for the coming decade. So I think it is in that spirit that I have come here," he said.

Talking about the wars that Israel has fought, reference of which was made by Peres first in his address, Krishna said Israel has emerged stronger.

"I think it was those wars that have strengthened your nation. I think you have emerged as a stronger nation after every war. I think the entire world looks to you with great respect," Krishna said.

The minister said he was very happy that relationship between India and Israel has spread to so many areas.

"We look forward to continued bilateral relationship...politically there are no problems as such. Now I think the economic content has to become more assertive and the economic content has to keep growing."