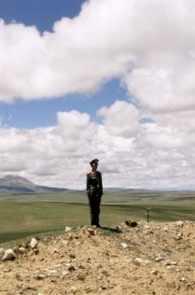 China on Thursday declined to give any timeline for withdrawal of its troops from Depsang valley in Ladakh but said the issue that has sparked new tensions in bilateral ties "will be properly resolved soon through negotiations".
"You raised a very specific question and I want to reiterate that Chinese troops carry out normal patrols on Chinese side of the Line of Actual Control between India and China", Chinese Foreign Ministry spokesperson, Hua Chunying told a media briefing. She was replying to a question about how long the Chinese troops intend to stay put at the Daulat Beg Oldi, where they have pitched tents.
"China and India are talking about the issue for a complete and appropriate settlement of the issue," she said referring to the current rounds of negotiations between the army officials as well as the new mechanism formed by both the countries last year to address specific issues relating to the border.
Asked whether China objected to any bunkers and trenches constructed by Indian troops, she said, "China is firmly opposed to any action that crosses the LAC."
China believes that peace and tranquility of border areas serve the "common interests of both the sides". "We hope media can give more time and be more patient. This issue will be properly solved soon through negotiations," she said replying to a host of questions on the issue.
She said the two sides are in close communication and contact with each other though relevant mechanisms. "We have further understanding of the each other's position. Both sides are willing to and are capable to solve this issue though friendly negotiation and maintain the peace and tranquility of the border areas and maintain the stable and sound development of China-India relations," she said.
Hua said the existing mechanisms are "conducive to solve relevant issue quickly". "The border issue is an issue left over from history. We have reached an important consensus that the border issue should not affect the bilateral relations.
"China-India also agree to properly settle the disputes and differences between the two sides while safeguarding the peace and tranquility of the border area," she said.