Income tax authorities on Friday launched coordinated searches across different locations in Tamil Nadu at individuals linked to state Electricity Minister V Senthil Balaji, with his brother, some relatives and friends coming under the radar of the taxman.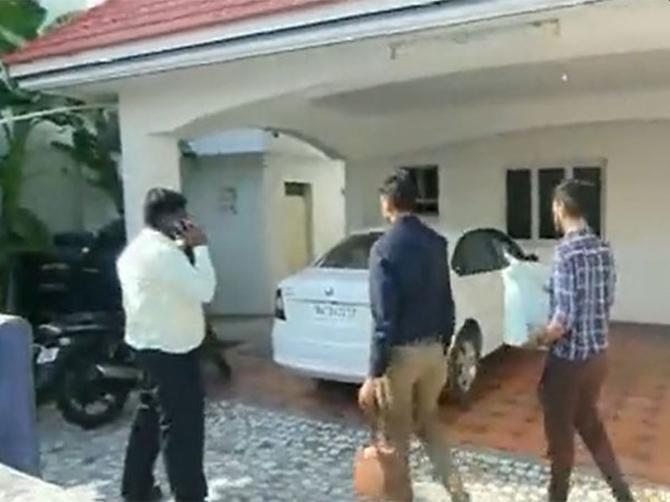 The ruling Dravida Munnetra Kazhagam in the state alleged the Bharatiya Janata Party used central agencies such as the I-T to "avenge" opposition parties.
DMK organisation secretary and former MP R S Bharathi claimed the searches were a result of the BJP "unable" to digest his party-led government's popularity in Tamil Nadu.
The searches were being held in various cities including Karur and Coimbatore at the premises of individuals linked to the minister, police sources said.
Close relatives of the minister and some contractors were among those whose premises were being searched by the tax authorities.
Balaji, a senior DMK leader from Karur, also holds the prohibition and excise portfolio.
Speaking to reporters in Chennai, the minister denied reports he was also being raided by the authorities and said searches were being held at the premises of his brother, his friends and relatives along with their acquaintances.
"There were no raids in my premises. Even if so, I am ready to face them. Such raids are not new to us as similar action was held during the last phase of the campaigning for the (2021) Assembly polls...In most places where the searches were held, the individuals are already paying tax; they are not tax evaders," he said.
"If someone has done something wrong, please take action. Instead, is it fair to scale the wall and enter the house," he said referring to officials doing so at one of the places.
He said the persons concerned have assured full cooperation to authorities and would furnish whatever documents and details are sought by them.
Balaji said he has come to know that the searches are being held in 40 locations across the state.
To a question on vehicles of I-T officials being damaged in Karur, he quoted the local police as saying the authorities had not informed them of the searches in advance and sought protection.
Tense moments prevailed at Karur when miscreants allegedly damaged a car used by income tax officials. The windscreen was damaged in the episode.
Balaji said he was in public life since mid-90s and denied any wrongdoing on his part.
On reports of a massive residential property coming up in his native Karur, Balaji said it was in the name of his brother's wife on land "gifted" by her mother. No land has been purchased in his name or that of his family members since 2006, he claimed.
The raids at the locations linked to the DMK strongman came at a time when Chief Minister M K Stalin is on an official foreign trip to Singapore and Japan.