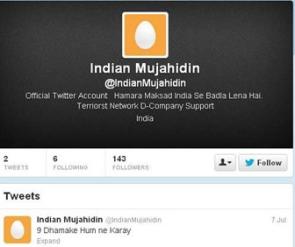 A Twitter account, allegedly operated by terror outfit Indian Mujaideen, has attracted the unwelcome attention of India's security agencies.
The Twitter account spews venom by threatening future terror strikes and taking credit for the serial blasts at Bodh Gaya.
Indian agencies suspect that the account is merely the result of mischief mongering by some elements in Pakistan. But investigators don't want to take the issue lightly; they have sought the help of United States agencies dealing with cyber crimes and authorities at Twitter.
The Twitter handle was created in Pakistan while the account is operated by proxy from Canada, say investigators.
Shishir Gupta, author of the book Indian Mujahideen, the enemy within, tells rediff.com that the Twitter account appeared to be a prank.
"It is nothing but an exercise in mischief," he said.
The agencies want more information about the creator of this handle who has deliberately spelt Indian Mujahideen as Indian 'Mujahidin'.
The language is similar to the one used by the IM in the past. Phrases like rok sako toh rok lo (stop us if you can) -- used by IM many times in the past, are rehashed by the Twitter account.
Though the handle may not even belong to IM terrorists, it conveys the message that Pakistan is looking to hit back on the issue of Rohingya Muslims by fomenting terror in India
The account, a motley collection of tweets, is followed by 32 people.
Interestingly, the IM account was following 26/11 terror strike mastermind Hafiz Saeed, but stopped following him the moment news about the Twitter handle hit headlines.
Another indication that the account is fake is the mention of underworld don Dawood Ibrahim.
Pakistan's worst-kept secret is that Dawood, India's most wanted terrorist, is hiding there and funding the Lashkar's terror activities.
But neither Islamabad nor IM terrorists ever speak openly about the complex linkages between Dawood's gang and terror funding.
The Twitter account, meanwhile, proclaims, 'Terrorist Company D Network Support'.
Indian investigators clarify that they are not taking the warnings issued by the Twitter handle lightly and adequate security measures are being taken to meet these threats.