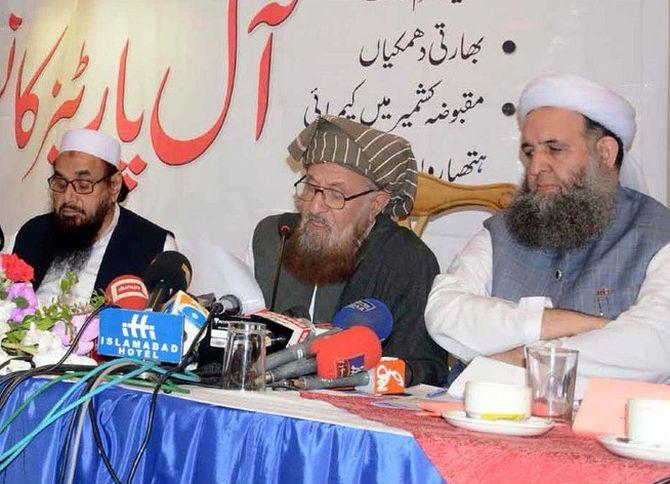 A minister in Pakistan Prime Minister Imran Khan's Cabinet has shared the dias with 26/11 mastermind Hafiz Saeed at an event in Islamabad, hours after Foreign Minister Shah Mehmood Qureshi assured the world that his country has "turned the tide against terrorism".
Minister for Religious Affairs and Interfaith Harmony Noor-Ul-Haq Qadri was seen seated near Saeed as he addressed an All Parties Conference organised by the Difa-e-Pakistan Council on Sunday, according to media reports.
A banner in the background said the conference was in "defence of Pakistan", and mentioned "Kashmir" as well as "threats from India".
The Difa-e-Pakistan Council is a coalition of over 40 Pakistani political and religious parties that advocate conservative policies.
Qadri's presence at the event with Saeed vindicated India's stand that there is no change in Islamabad's atttude towards terrorism after Prime Minister Khan assumed office in August.
External Affairs Minister Sushma Swaraj in her address to the UN General Assembly on Saturday said Pakistan's commitment to terrorism as an instrument of state policy has not abated one bit.
She asked the world leaders how India can pursue talks with a nation that "glorifies killers" and allows the Mumbai attack mastermind to "roam free" with impunity.
Qureshi in his address to the UN General Assembly said Pakistan had turned the tide against terrorism.
With the deployment of 200,000 troops, Pakistan has conducted the largest and most effective counter terrorism campaign in the world. Peace and security have returned to our cities and towns, he had claimed.
The US has named Saeed as a specially-designated global terrorist, and announced a USD 10 million bounty for information that will help bring him to justice.