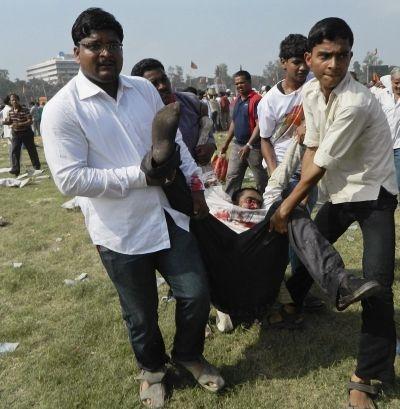 A day after nine live bombs were found at a lodge in Hindpiri, Ranchi, security agencies are apprehensive about finding more bombs at the site.
These bombs were meant to wreak havoc at Gujarat Chief Minister Narendra Modi's rally in Patna, but the terror plan by suspected operatives of the Indian Mujahideen fell apart when two of the foot soldiers, who were planting the bombs, sustained serious injuries.
Investigations have revealed that the IM terrorists had planned to target the rally once Modi had finished his speech and throngs of people were leaving the venue.
Though the nine bombs recovered in Ranchi resemble those planted in Patna, they are far stronger than the explosives that actually went off at the rally.
The interrogation of Ujjair Ahmed, one of the suspects in the attack, revealed that the terrorists had planned to cause a major stampede at the rally. The quantity of ammonium nitrate used in the explosives was low since it was easier to carry around the bomb and place it at various locations.
"We intended to plant eight bombs in and around the venue of the rally. Once these bombs were planted, we were going to plant nine other bombs outside the venue. Each of the bombs had a timer attached to it," he said.
The team of operatives, headed by Tehsin Akthar, had assembled nearly 18 bombs for the Patna attack.
While the first set of bombs was placed in a small metal box, the nine bombs recovered on Sunday were packed in pipes to cause greater devastation.
Meanwhile, the National Investigation Agency, which is probing the connection between the blasts in Patna and Bodh Gaya, has not made much progress till now. Though the agency suspects that the IM planned and orchestrated both the blasts, it needs to question Yasin Bhatkal, the chief of the terror group who is currently in custody.
Bhatkal had earlier denied any sort of complicity in the Bodh Gaya blasts, saying, "We have not carried them out. But if someone did do so, then I am happy about it."
Image: After the blast at Narendra Modi's Patna rally ' Photograph: Reuters