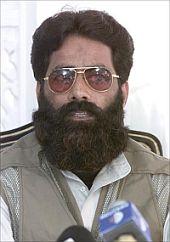 Asserting that Harkat-ul-Jehadi Islami operational chief and Al Qeada commander Ilyas Kashmiri cannot dictate India, Union Home Minister P Chidambaram on Wednesday said India is not deterred by his threats.
"Ilyas Kashmir cannot dictate our course of action. We cannot be deterred and we are not deterred by what he says," he told mediapersons in Jammu.
Chidambaram said this when asked about Kashmiri's threat to international players that they should not go to India and take part in the Indian Premier League and Commonwealth Games.
The home minister, who chaired the Unified Command meeting and reviewed the security situation and the surrender policy in Jammu, said the Centre will provide full protection to every player, coach and official who participates in the forthcoming hockey, cricket or any other sport in the Commonwealth Games.
Kashmiri's warning to India was posted by the 'Asian Times Online'. The portal said it received Kashmiri's message on Monday morning shortly after the Pune blast.
"We warn the international community not to send their people in 2010 Hockey World Cup, IPL and Commonwealth Games....Nor should their people visit India. If they do, they will be responsible for the consequences," said Kashmiri.
Image: Ilyas Kashmiri