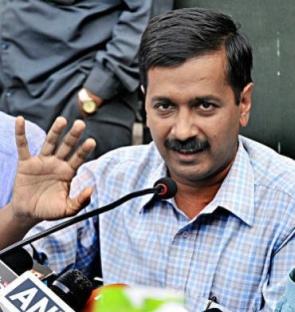 Initial lot of 45 names for 12 seats to prove their public acceptability before final choice

Ex-taxman-turned-social activist Arvind Kejriwal's relatively new Aam Aadmi Party on Friday announced a prospective candidates' list for 12 of the 70 constituencies in the city's legislative assembly. Elections are due this November.

The AAP's claim of representing the masses against a corrupt and inept political order is yet to be tested in an electoral contest. Friday's announcement was the first public step towards keeping earlier promises on providing an alternative to the mainstream parties.

It is still not clear whether the AAP will contest all the 70 seats or only some. Or, for the matter, its final list on the 12 seats in question today. As many as 45 "candidates" were announced for these 12, "shortlisted from 106 applicants", the party explained.

They range from a car cleaner and a songwriter to engineering and economics postgraduates. The common link for most appears to be some participation in the much-reported anti-graft agitation of 2011 of which Anna Hazare was the face and head, Kejriwal prominently by his side, among others.

Rather uniquely for Indian politics, the AAP says it is inviting feedback from citizens on the shortlisted 45. This would be considered, the persons concerned also "holding debates" in the respective seats of allotment. There would be a final selection by an yet unnamed committee on political affairs. No timeline for this process was given.

Or, for that matter, on how the "public feedback" would be gauged. "Famous people need not be popular," said Kejriwal on two of those in the list with some name recognition, Manish Sisodia (a former television news presenter) and Shazia Ilmi, an anchor-producer for some prime time news shows. If these two, for instance, "failed to get approval of the people in the area (allotted)", he said, their names would go. For now, Sisodia is one of those nominated for Patparganj in the city's east and Ilmi
from RK Puram in the south.
None of these 12 seats are occupied by incumbent ministers of the city government, one run by the Congress party continuously since 1998, under the same chief minister, Sheila Dikshit. Names for those, said Kejriwal, would come later, gradually. What about his own seat contest? He said he was consulting experts on this.
"We've raised Rs 2 crore from donations in the past two months," he said. "We just have to focus on each seat and proceed."
Grassroot members from other political parties, declared Kejriwal, were already coming forth and joining the AAP. "It is a horizontal split that is happening in these parties," he said. He referred to two examples from the shortlist of 45 -- a Bhim Singh who was reported to have served the Congress for 25 years without being nominated for an election and another, not named, from the Bharatiya Janata Party, who had reportedly vowed to work for the AAP whether finally given a ticket or not.
Delhi elections have always had only the Congress or the Bharatiya Janata Party (including its Janata Party avatar, post-emergency) as a citywide winner. There wasn't even a serious splitter of the vote on any significant scale, though the Bahujan Samaj Party gave the two majors a scare in some regions in recent years.
Harinder Singh Mahaur, whose only possession is said to be a bicycle and who cleans cars for a living has been shortlisted for the Seemapuri seat in the east. Rohit Kumar Mehraulia, who teaches music in a private school and is a song writer for Kejriwal's anti-graft movement has been shortlisted from Trilokpuri, again in East Delhi. A retiree from the Border Security Force, an IIT engineer and an alumnus of the Delhi School of Economics are among the others in this first and tentative list.
Kejriwal, it may be recalled, recently tried a mass mobilisation of citizens in some parts of this metropolis against paying of "inflated" electricity and water bills. He has denounced both Congress and the BJP as partners in furthering an out-of-reach and out-of-control system of governance, majorly influenced by corporate interests.