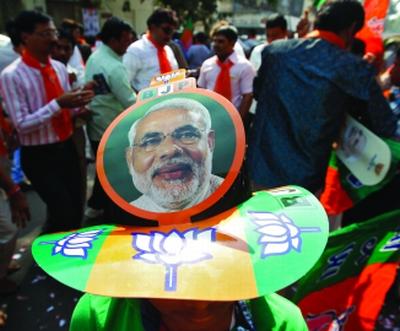 Retired senior US diplomats Teresita and Howard Schaffer believe the 'US cannot afford to continue restricting its contacts with Narendra Modi.' Rediff.com's Aziz Haniffa reports from Washington, DC.
Two retired senior American diplomats -- with over 60 years experience in South Asia between them -- have exhorted the United States to establish communication with the Bharatiya Janata Party's prime ministerial candidate, Narendra Modi.
'In the tremendous buzz that has attended Narendra Modi's emergence as the BJP's candidate for prime minister in India's 2014 elections, foreign policy has been almost entirely absent,' Teresita C Schaffer and her husband Howard Schaffer, who both served as heads of the South Asia Bureau in the State Department several years ago, wrote on their popular blog 'South Asia Hand'.
'Modi's rare foreign policy statements suggest that his approach will centre on economics, India's cultural heritage, and a tough regional policy. It is too early to tell what this is likely to mean in practice,' the Schaffers added.
Teresita, now a non-resident fellow at the Brookings Institution, and Howard, a professor of diplomacy at Georgetown University, predicted, 'For the United States, a Modi victory would bring pluses and minuses in terms of his policies. But regardless of the outcome of the national election, the US cannot afford to continue restricting its contacts with a politician of Modi's importance to a relatively low level.'
The Schaffers pointed out that the BJP's strong showing in state elections last month has 'intensified speculation that there might be a change in the central government following the national polls expected in mid-2014.'
While refusing to predict what the final outcome of the national election would be, the diplomats said, 'Many scenarios are still possible, and there are still some five long months to go before the voters make the decision. But it is worth looking more closely at what a Modi-led BJP government, if it does take office, might mean on the international scene.'
'The experience of the last two decades suggests that there is less difference than might be expected between Congress (party) and BJP-led coalitions,' they added, pointing out that 'both participated in the creation of India's post-Cold War international profile, including its much expanded ties with the United States.'
'In the two areas where there is a discernible party difference, the contrast has been muted,' the Schaffers observed. 'The BJP's Atal Bihari Vajpayee ordered the 1998 nuclear weapons test -- but the Congress government that followed him stoutly defended India's nuclear status.'
Speculating how a hypothetical Modi government could be different, the diplomats said, 'His foreign policy speech in Chennai October 18 provides a few clues. He certainly stands by the two issues that have distinguished BJP foreign policy in the past. He praised Vajpayee's decision to conduct an explicitly military nuclear test in 1998, but also lauded Vajpayee's public declaration of a policy of no first use of nuclear weapons, striking a "balance" between strength and peace.'
'This formulation, of course, says little about where the balance might be struck in an uncertain future,' the Schaffers said. 'A separate statement by Modi in December 2012 reinforces the expected tough message on Pakistan -- he rejected any kind of compromise on the long-standing dispute over the coastal border in Sir Creek, where Modi's state of Gujarat faces Pakistan.'
However, they acknowledged, 'The most important message in Modi's October speech was the centrality of economics in his thinking about foreign policy. He addressed this theme at greater length and in greater detail than any of the others, exhorting India to increase exports, build its future on its strong information technology sector, and turn the dangers of global climate change into a business opportunity for India's entrepreneurs.'
As to the impact a possible Modi government might have on relations with the United States, the diplomats noted that 'from the policy perspective, the good news is his emphasis on enhancing India's economic performance and ensuring that a welcome mat is out for business.'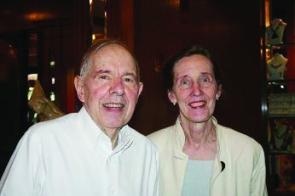 'The issue that is generating the most speculation now,' the Schaffers pointed out, 'is not foreign policy, but Modi's lack of senior level contact with the United States government,' particularly after the US revoked his visa in 2005 under a recent and rarely used provision of law, Section 212 (a) (2) (G) of the Immigration and Nationality Act.
This provision holds that 'Any alien who, while serving as a foreign government official, was responsible for or directly carried out, at any time, particularly severe violations of religious freedom, as defined in section 3 of the International Religious Freedom Act of 1998 (22 USC 6402), is inadmissible.'
According to the Schaffers, 'Despite the draconian language of the legislation, the technical visa issue is unlikely to be an issue if Modi became prime minister. There is a provision for waiving the "inadmissibility," and while no waiver has been granted in the past eight years, one can anticipate that it would be in the event a sitting prime minister wished to travel to the US officially.'
'One can already see the groundwork being laid for a potential shift,' the Schaffers said.
'The more relevant problem, however, is that the United States has also limited its official contact with Modi, even after the ambassadors of other major powers had opened dialogues with him,' they said.
Pointing to precedents, the Schaffers noted, 'The United States government has negotiated with Iran, whose leaders's record on religious freedom and other human rights is completely at variance with US values.'
'It deals with both governments and Opposition politicians around the world in spite of severe objections to their record,' they added. 'Talking to a senior political figure does not equate to agreeing with his views or approving his prior record.'
Image: Top: Bharatiya Janata Party supporters celebrate the party's win in the state assembly elections on December 8. Bottom: Howard Schaffer and Teresita C Schaffer.