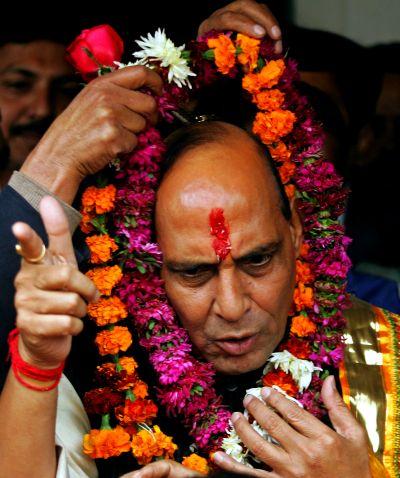 BJP president Rajnath Singh has said that he did not bring up the Modi visa ban issue even once during his deliberations in Washington, DC, also dismissing the controversy over letter to President Barack Obama by Indian parliamentarians, reports Aziz Haniffa.
Bharatiya Janata Party president Rajnath Singh has denied the contention that his mission to the United States was to 'showcase and sell' Gujarat Chief Minister Narendra Modi to the leadership in United States' political, corporate and think tank circles.
On the contrary, he asserted that the key priority of his visit was to promote US-India economic and strategic relations and also express concerns over some of the 'killer amendments' of the comprehensive immigration bill adopted by the Senate -- which is now being debated in the House -- particularly with regard to H-1B and L (intra-company) transfer visas that could impact adversely on the information technology sector in India.
In an interaction with journalists representing Indian newspapers in Washington, DC, over breakfast at the National Press Club, Singh said he had not brought up the issue of US visa ban on Modi even once in all of his meetings, including with US lawmakers on Capitol Hill.
He acknowledged some Americans -- whom he didn't want to identify -- had raised this issue, questioning the rationale behind it, but he had told them that issuance of a visa is the exclusive preserve of the US administration, but had noted that it was a paradox that when the Congressional Research Service in a report in 2011 had appreciated Modi's performance and the progressive economic reforms he had instituted in Gujarat attracted much foreign direct investment, 'on the other hand the US even denies him a visitor visa.'
"But anyhow, this is the issue of the United States government," he reiterated. "This is not our issue -- this is their issue. This is a subject of the US administration and they have to take a decision."
Singh also said Modi himself had never brought up the visa issue with him nor had the BJP in its internal deliberations discussed this issue and that 'it is more an issue in the media.'
But when he was pointedly asked why he had said in New York that he would bring up the issue of the visa ban on Modi in his interactions in DC and was now claiming that his visit was essentially to promote US-India economic and strategic relations and deliver a speech on Afghanistan, Singh deftly, with a smile, kept deflecting the question and not answering it, but saying an issue he had raised with the US lawmakers was concern 'over the mistreatment of minorities in Pakistan' and that 'their population is decreasing day by day.'
Although it could be argued that a letter to President Barack Obama by Indian parliamentarians released on the day Singh landed in DC calling on the US president not to rescind the visa ban on Modi may have precluded him from raising this issue, the BJP leader dismissed this controversy, saying "it was forged signatures and has no relevance".
"Already the members who have signed that paper have contradicted that it is not their sign but the forged signs," he said.
Singh pointed out that 'Sitaram Yechury, a very senior person of the Community Party, he has said, this is not my signature. And one of the members of Parliament has also written to the Speaker of the House that it has to be investigated -- how the forged signatures of so many members of Parliament have been sent to the United States".
Asked if Modi was a consensus candidate for the prime ministership who can bring in coalition partners to the BJP reminiscent of 1998, when even some members of the party were concerned that he was a polarising figure, Singh asserted, "If there was no consensus within the party, then how could I have appointed him chairman of the campaign committee?"
Asked if it was a no-brainer that he was projecting Modi as the prime ministerial candidate of the BJP, Singh explained, "There is a system in BJP -- who will be projected as a chief minister candidate and who will be projected as a prime minister candidate."
Asked what his forecast for the general election was considering the various polls and how the BJP was going to build a coalition of alliances to get 270 seats, Singh said, "That's our target," and noted that the BJP in 1998 had developed post-poll alliances that were unprecedented, "when 24 parties joined up with the BJP".
"We have targeted to get 272 seats on our own, but even if we are not able to make it, then we are quite hopeful that in the post-poll scenario, so many allies will come," like they did in 1998.
Singh said at the time "we were having the coalition of 24 parties and the BJP had set a new record in Indian polity that we have successfully run a government for six years taking together these 24 allies".
Image: BJP president Rajnath Singh
Photograph: Adnan Abidi/Reuters