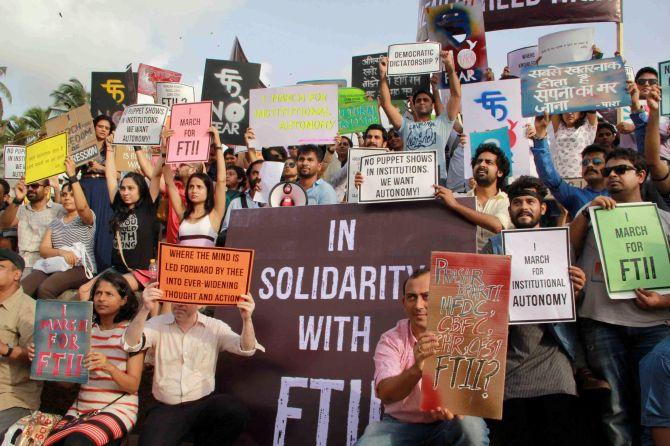 A three-member team of Information and Broadcasting Ministry officials is expected to visit the crisis-hit FTII soon to find a solution to the 70-day-old strike by the students, demanding removal of TV actor and Bharatiya Janata Party member Gajendra Chauhan from the institute's chairmanship.
This was indicated on Wednesday by the Film and Television Institute of India director Prashant Pathrabe, who said the officials will study and discuss the problems plaguing the institute.
The prolonged agitation has brought the entire academic activity to a standstill since June 12.
"The team will comprise S M Khan, Anshul Sinha and S Nagnathan. They will study the prevailing situation on the campus and hold discussions with all concerned, including the students," he told reporters in Pune.
The students' protest that started by questioning the "credentials and vision" of Chauhan to lead the premier institute, took a different turn last week when Pathrabe announced his decision to conduct assessment of incomplete diploma film projects of the 2008 batch on "as it is where it is" basis.
According to the FTII Students' Association, the assessment as proposed by the director was also opposed by the faculty as it was "unjustified, irrational and unfair" with the project films devoid of editing and audio.