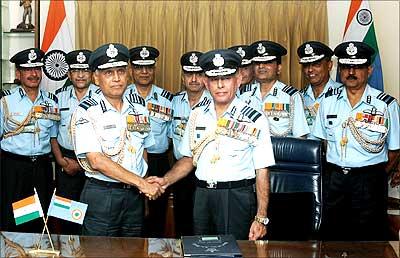 Air Chief Marshal Fali Homi Major took over as the new chief of the Indian Air Force from the present incumbent S P Tyagi, who retired on Saturday.

In a message, Air Chief Marshal F H Major said, "It must be remembered that in our march of progress, we must remain in line with national goals and in concert with the other services."

He said the air warriors, 'must work towards transforming the IAF into an aerospace force, for it is only through the employment of space based applications that we can be more effective beyond our shores.'

The new Air Chief said hardware provides capabilities, but it is the people who can give us the 'winning edge.'

Born on May 29, 1947, Air Chief Marshal Major was commissioned on December 31, 1967 as a helicopter pilot. During his long and distinguished service spanning little over 39 years, he has worked in a variety of Command, Staff and Instructional appointments.

He has the distinction of having 7,765 hours of flying experience to his credit. He commanded a helicopter unit, which took part in operations in Siachen (the world's highest battlefield) and commanded a Mi-17 squadron during the IPKF operations in Sri Lanka, for which he was decorated with the Vayu Sena Medal (Gallantry).

The Air Chief was awarded Shaurya Chakra for undertaking an exacting rescue mission on October 14, 1992
at Timber Trail in Parwanoo, Himachal Pradesh, where he along with his crew, rescued eleven stranded tourists out from a cable car, by hovering precariously close to the set of cables that ran above it.
Besides being a Fellow of the National Defence College, New Delhi, and the Army War College, Mhow, he attended a variety of courses like Junior Commanders' Course, Jungle and Snow Survival Course and Higher Command Courses. He had the distinction of overseeing tri-Service operations including the Tsunami operations, during his tenure as Deputy Chief of Integrated Defence Staff (Operations) at HQ IDS.
He was appointed as AOC-in-C, Eastern Air Command in September 2005. He was awarded Param Vishist Seva Medal (PVSM) in January 2006 and Ati Vishist Seva Medal (AVSM) in January 2002.