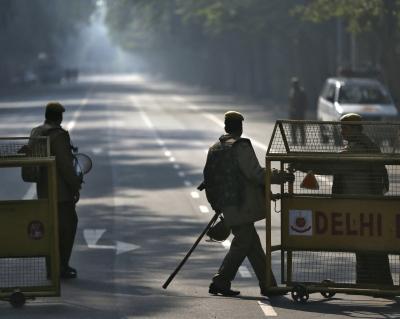 New Delhi has turned into a virtual fortress ahead of the Independence Day celebrations as thousands of armed security personnel kept a hawk-eyed vigil to pre-empt any possible terror strike in the city.
The central security agencies had given inputs to police that Pakistan-based Lashker-e-Tayiba terror group may attempt to attack markets or places of strategic importance in the city.
A ground-to-air security apparatus has been put in place especially near the Red Fort from where Prime Minister Manmohan Singh will unfurl the tricolour and address the nation on Thursday.
Thousands of Delhi police and paramilitary personnel have been deployed at market places, airport, railway stations, inter-state bus terminals, metro stations and places of strategic importance.
Besides patrolling of the skies by helicopters, an air defence mechanism will also be put in place around the venue. The alert by central security agencies quoted a paragraph from speech of Hafiz Saeed, founder of Lashker-e-Tayiba, delivered last month in Pakistan where he had openly threatened that his terrorists will carry out an attack in the national capital.
Around 50 CCTVs have been installed in and around the Red Fort to ensure incident-free celebrations while sharpshooters of the National Security Guards will be deployed on the high-rises near the 17th century Mughal monument, officials said.
At least 80 companies of security forces (around 6,000 personnel) will be deployed at the Red Fort and the surrounding areas during the Independence Day celebrations, said a senior police official. Security agencies are constantly reviewing arrangements at the Red Fort and have zeroed in on the 'safe houses' where the PM and other leaders should be taken to in case of a terrorist strike, officials said. The Central Industrial Security Force, which guards the Delhi Metro, is carrying out extensive passenger checking at all Metro stations.
Delhi Metro's parking lots will remain closed from 2:00 pm of August 14 to 2:00 pm on August 15 in view of security restrictions for Independence Day celebrations. However, train services will not be affected, police said. According to the officials, the localities around Red Fort have been sanitised and informers have been deployed to keep a check on any movement of anti-national elements.

Specialised units like Quick Reaction Teams, SWAT and Vajra are being deployed. Commando units of Delhi police have also been placed on strategic locations, police said. Police have also asked operators of guesthouses, cyber cafes, telephone booths and taxi services to keep a watch on their customers and report about suspicious people. Telephone booth operators were instructed to keep separate registers of those making local, STD and ISD calls, the officials said. Owners of guesthouses and hotels have been asked not to allow their guests to use hotel address for getting a mobile connection, they said.
During the celebrations at Red Fort on August 15, no cameras, binoculars, handbags, briefcases, transistors, cigarette lighters, tiffin boxes, mobile phones, water bottles, lunch boxes etc will be permitted, police said. "Members of the public are requested not to touch any suspicious object. They are requested to immediately report about the presence of any unidentified/suspicious object, suspicious movement of individuals and vehicles or anything out of the ordinary, to the nearest policeman," said a senior police official.

Image: A police officer pulls a barricade to close a road leading to the India Gate in New Delhi

Photograph: Ahmad Masood/Reuters