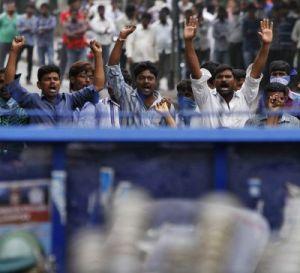 Come Saturday and there may be a battle on the streets of Hyderabad between the people of Rayalseema and Telangana.
The various associations from Rayalseema opposing the division of the state have decided to take out a protest march in Hyderabad on September 7. The associations from Telangana had opposed the same and even questioned the decision of the police to give permission for such a rally "which has chances of turning violent".
However the police stuck to their decision and now the people of Telangana will take out a parallel rally on the same day opposing the demand of the people of Rayalseema.
Security has already been beefed up in Hyderabad ahead of the protests and police are not taking any chances as there is chance of disruption of peace.
Meanwhile even as the Union Cabinet in New Delhi is readying the note on the formation of Telangana, speculation is rife regarding the contents of the note. The leaders of Rayalseema have been telling people in their circles that there is a chance of Hyderabad being made into Union Territory.
The people of Telangana have already warned of severe protests in case such a decision is taken.
However, sources say that there is no such move and the final decision will be taken as per the resolution that was passed last month. Both the UPA's coordination committee and the Congress Working Committee had decided to bifurcate Andhra Pradesh. There was no mention of Hyderabad as a Union Territory neither the formation of a Rayal-Telangana. It was stated that Hyderabad would be a shared capital for ten years and there would be no inclusion of any of the Rayalseema districts into Telangana.
Sources say that any change at this moment is difficult. The decision of the CWC has already been sent to the Union home ministry who are preparing the note. In case any change needs to be done, then both the UPA coordination committee and the Congress working committee would have to meet and re-draft the resolution.
Congress sources also point out that party chief Sonia Gandhi is adamant that no changes should take place and everything should go on as it had been decided.
Image: Telangana supporters protest outside Osmania University in Hyderabad
Photograph: Krishnendu Halder/Reuters