A large number of foreign nationals including Dutch, Israelis and at least around 1,000 Canadians are still stranded in parts of Nepal, a week after the earthquake battered the Himalayan nation.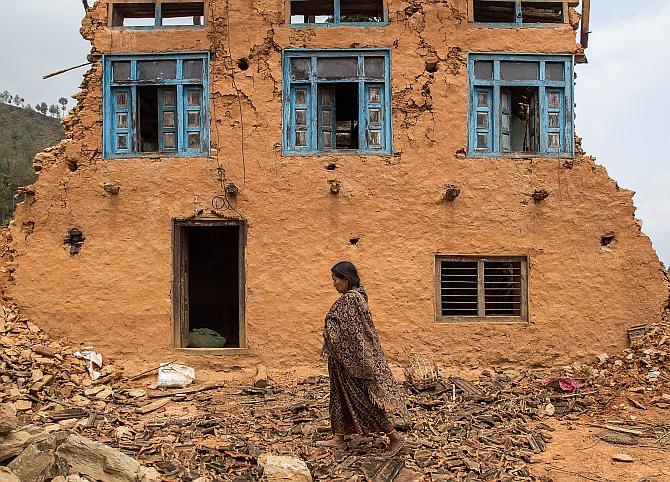 A favourite among international tourists, Kathmandu Valley with its seven-piece World Heritage ensemble, bore the maximum brunt of the 7.9-magnitude quake which reduced the iconic landscape to rubble on April 25.
According to private carrier Spicejet, taking part in evacuating people from Nepal, around 1,000 Canadians, who had gone for trekking, are stuck in Nepal.
"About 1,000 Canadians got stranded since they went for trekking outside Kathmandu. They are now trying to collect themselves at the Kathmnadu airport by contacting either the Canadian embassy or through the Minister of External Affairs directly. So, besides Indians, we are also getting requests to evacuate these foreign nationals," Promoter, Spicejet, Ajay Singh told PTI.
The airline said that it has been operating three relief flights daily since April 26, on an average, carrying relief material, volunteers and mostly grief-stricken family members of the quake-affected people.
"Slowly, they are all converging at Kathmandu, and embassies and ministries are also coordinating in getting them back from the quake-hit country. Besides, there are also some Italian citizens who are stranded there," Singh said.
He said the carrier intends to carry on this routine for at least another one week by which they expect that some semblance of stability would be reached in the country.
The airline till Friday flown at least 18 flights, a senior official of the Spicejet said.
"Previously, we brought Spanish nationals back and Spain's Ambassador flew in from New Delhi to Kathmandu with us. Besides, we are carrying volunteer from national and international NGOs and rescue workers, doctors as well," Singh added.
"We recently also few about 50 German rescuers, and sniffer dogs to Kathmandu and people from the Red Cross and other humanitarian organisations," he said.
German Embassy and the German government has also deployed staff and other specialised members of the rescue team in the country, and members have also been stationed at quake-assistance booths prepared at the airport premises.
"We are coordinating with German Embassy and people are coming to give us details of their missing family members or friends, which is then maintained in a data base by the Embassy, which also coordinates with other embassies," said a member of the Rapid Deployment Unit, German Federal Agency for Technical Relief, stationed at the Kathmandu airport.
Talking about the challenges thrown up by the situation, Singh said, "There is limitation on parking bays at Tribhuvan International for cargo planes, plus it is a single runway.
"We also need to bring in helicopters in remote areas where flights cannot reach. Besides, a lot of cargo material is also lying dumped at the aiport," he said.
Image: A woman passes by a damaged home in Kalchowk, Nepal.
Photograph: Omar Havana/Getty Images