From planting seedlings to holding feasts and shutting down 500 liquor shops, Tamil Nadu government is going all out to uphold Jayalalithaa's fame on her 69th birth anniversary.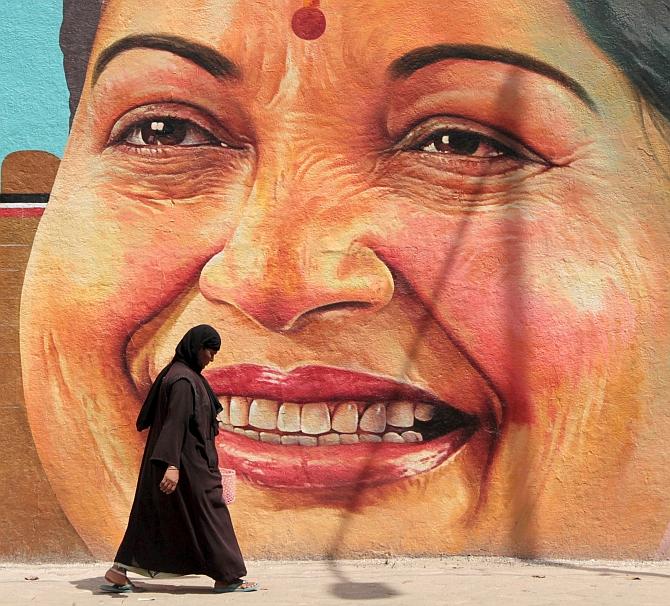 Tamil Nadu government, All India Anna Dravida Munnetra Kazhagam and dissident leader O Panneerselvam on Friday observed the 69th birth anniversary of late chief minister J Jayalalithaa by planting saplings and disbursing welfare assistance.
Chief Minister Edappadi K Palaniswami planted a sapling at the Omandurar Government Estate here marking the launch of a drive to plant 69-lakh saplings and a greening project in areas hit by Vardah cyclone last year commemorating Jayalalithaa's birth anniversary.
The planting drive is being taken up across the state at an estimated cost of Rs 65.86 crore and will be completed before December.
"The saplings will be planted and maintained in forest areas, in the premises of schools, colleges, government and private office complexes, road sides and in parks," an official release said.
In districts affected by storm, it has been planned to plant 50,000 saplings in private and government lands and 2.2 lakh saplings in reserve forests.
Besides, 2.62 lakh saplings will be provided to public at subsidised rates and all the initiatives will be implemented at a cost of Rs 13.42 crore.
A photo exhibition on the achievements of the Tamil Nadu government, prominently featuring late Jayalalithaa's tenure, was unveiled by Finance and Fisheries Minister D Jayakumar.
Meanwhile, AIADMK General Secretary V K Sasikala, in her letter published in party mouthpiece "Dr Namadhu MGR" on Friday said, "Let us vow to protect the party, and work for the people."
Lodged in a Bengaluru prison, she said cadres should give welfare assistance, provide community lunches (Annadanam) to the people and carry on by working shoulder to shoulder with the government.
In a veiled attack on Panneerselvam, she said, "When enemies and traitors wanted to defeat the party and the government, Amma's soul guided us and has put up the AIADMK government in the seat of power."
Paying floral tributes to Jayalalithaa, Panneerselvam disbursed welfare assistance to the people at Tondiarpet in North Chennai.
He hit out at Sasikala and her family without naming her for trying to take over the party against Amma's wishes.
"Dharma Yudham will continue (to retrieve the party and government)," he said, reiterated his demand for a judicial inquiry into the circumstances surrounding the death of Jayalalithaa.
Fulfilling Jayalaithaa's announcement that prohibition would be implemented across the state in a phased manner, 500 retail liquor shops in the state will shut down on Friday even as the state government assured employees of these outlets that they will not lose their jobs.
Soon after he assumed office on February 20 after winning the trust vote on Saturday, Chief Minister Palaniswami had issued various orders, including for closing 500 more Indian Made Foreign Liquor outlets of the total 6,300 present in the State.
In an official release, the government said the 500 liquor outlets, operated by State Marketing Corporation, would be closed from Friday across the state and also assured the employees that due to the closure they would not lose their jobs.
AIADMK presidium chairman K A Sengottaiyan led the birth anniversary celebrations of Jayalalithaa at party headquarters here in which Chief Minister Edappadi K Palaniswami and other senior leaders participated.
Palaniswami alongwith party Deputy General Secretary T T V Dinakaran inaugurated a medical camp at the party headquarters premises.
Leaders, including Palaniswami, paid floral tributes to a portrait of Jayalalithaa at the AIADMK headquarters.
Similar events were held across the state by senior by AIADMK leaders.
Community lunches, medical camps, blood donation camps and distribution of food for inmates of destitute homes and orphanages were organised to mark the occasion.
Leaders also distributed sweets to public, and gave away notebooks to school children.
Forest Minister Dindigul C Srinivasan released the birth anniversary souvenir which was received by Assembly Deputy Speaker Pollachi Jayaraman.
Later, Health Minister C Vijayabaskar told reporters that across Tamil Nadu, 690 medical camps were being held.
"The camp is being held from today till 28 February at government hospitals, people should avail the opportunity," he said.
Finance Minister D Jayakumar said gold rings were being presented to new born kids and gifts to their mothers in view of the birth anniversary of late Jayalalithaa.
In Tuticorin and Dindigul, gold rings were presented to babies born at government hospitals by senior party leaders following the practice of previous years.