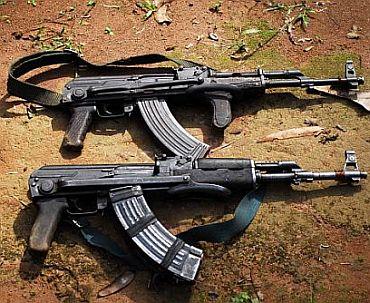 Setting up the Darabhanga module was perhaps the easiest job the Indian Mujahideen ever pulled off. With politics, appeasement and a safe hiding ground on offer, the agencies are finding this terror module the toughest one to crack.
The alleged political links of suspected Patna blasts mastermind Tehsin Aktar has raised eyebrows.

Akhtar, who is reportedly heading the IM following Yasin Bhatkal's arrest, is allegedly related to Taki Akhtar, a Janata Dal-United leader from Samastipur.

For now, the agencies say there is nothing to indicate any association between the two in setting up the Darabhanga module.
Bhatkal, in his interrogation, points to the Darabhanga module and says that the atmosphere in the state was conducive for them to set up a module.

Although the setting up of this module commenced nearly four years back, they ensured that they never used this module for any terror strike.

'We used operatives from either the Pune, Azamgarh or Delhi modules for the attacks and when it came to taking shelter we always returned to Darabhanga,' Bhatkal is believed to have told interrogators.

Even after the 13/7 blasts in Mumbai, the operatives involved hid themselves in Darabanga for the next six months and ironically despite sending out clear signals, the Intelligence Bureau information was never considered by the agencies in Bihar.
Darabhanga is a difficult place for the agencies to deal with. A lot hinges on human intelligence when an agency needs to infiltrate a module and nab persons.

Darabhanga can be compared, says an officer with the National Investigation Agency, to the atmosphere that prevailed during the time agencies had to bust modules in Hyderabad.

An Intelligence Bureau official says that it has been a free-for-all kind of situation at Darabhanga. All sorts of people keep coming in and going out, but there has always been some political protection which has helped them get away.

Local authorities too have not been helpful and unless and until they cooperate there is very little that any of the agencies can do.

Several attempts by the NIA to nab the operatives from this place have gone down the drain, mainly because many take shelter with local political leaders and very often they get a tip off in advance when an agency advances towards this module in Bihar.
The Indian Mujahideen, according to Bhatkal, had started the Darabhanga module with just 12 persons. They had then sought the help of another operative named Fasih Mahmood. Youth were recruited from Darabhanga, Madhubani, Purnia and Samastipur.

The key players of this module apart from Yasin were Tehsin Akhtar (Samastipur), Qateel Siddiqui (Darabanga), Mohammed Tariq Hasan (Purnia), Gayur Ahmad Jamali of Madhubani, Gauhar Azzi Khomani (Darabhanga), Asadullah Rehman (Darbhanga), Abdur Rehman (Dharbhanga) and Mohammed Kafil (Darbhanga).
Assadullah, who was arrested along with Bhatkal, told interrogators that support from local political leaders had helped their cause.

Although the Darabhanga module has been considered to be the most lethal, it was used more as a hiding ground for us. Whether we travelled to Hyderabad or Mangalore or any other city in the country for an attack, we always ensured that the return point would be Darabhanga where we would all re-group and plan the next attack, he also pointed out.
The biggest mystery till date is however the reluctance of the Bihar police to question Bhatkal when he was arrested and brought down to the state. The police had said that they chose not to question him since there was no case against him in that state