One of the biggest lessons for cities fighting the Covid-19 pandemic has been the criticality of access to data.
Mumbai, which has shown significant success in managing the second wave of the pandemic, is a case in point, reports Shivani Shinde.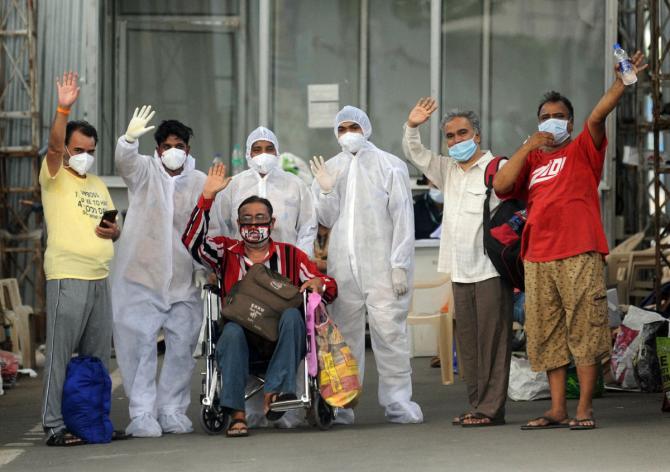 One of the biggest lessons for cities fighting the Covid-19 pandemic has been the criticality of access to data.
Mumbai, which has shown significant success in managing the second wave of the pandemic, is a case in point.
The "Mumbai model" demonstrates how technology can facilitate the battle against the dreaded Covid-19.
The Municipal Corporation of Greater Mumbai, also known as BMC, is the governing civic body of Mumbai, and is divided into 24 wards.
Like most municipal corporations across the country, the BMC, too, was monitoring the Covid-19 outbreak manually when it first started in 2020.
This is how the system worked: All the data, from patient to hospital to medicine allocations, was collected manually on paper, and entered into Google sheets that had no access control feature and had a time lag of more than 48 hours.
The BMC realised that it needed to quickly adopt a technology that would help streamline all this data into a dashboard kind of a system where the data could be accessed in real time.
In August 2020, BMC selected Quantela, an outcome-as-a-services company, as a technology provider.
Quantela was to come up with a unified system for managing a complete Covid-19 patient lifecycle by digitising an error-prone manual process of data entry on Excel/Google Sheets which resulted in delayed patient care.
The platform would also automate coronavirus case updates across city, state and central governments by integrating the systems of the Indian Council of Medical Research, National Health Portal and StepOne (a volunteer group of doctors and others for fighting the Covid pandemic).
Moreover, it would predict capacity utilisation of hospital infrastructure and medical supplies, based on caseload numbers at the ward level.
All this would be provided on a dashboard with insights from updated data at decentralised Covid-19 war rooms to enable proactive decision making.
Aneel K, chief technology officer at Quantela, says that before the company started working with the BMC, it had already set up a Coronavirus Emergency Response platform based on its existing Quantela Smart City decision making platform for Assam as well as the ministry of housing and urban affairs.
It had also set up a model Covid war room for Bruhat Bengaluru Mahanagara Palike in Bengaluru.
Before Quantela's solution was deployed, the BMC had to work with patient positive report data that came from the Indian Council of Medical Research, track the patients' recovery process in hospitals along with their discharge, record and track infrastructure supply and demand at hospitals, keep track of containment zones and so on.
"All this was done manually, which would take three to four days and needed 10-12 people working round the clock. And since the data was on Google sheets, there would be duplication and error," says Aneel.
Again, before Quantela came into the picture, wards, too, were allocated manually, after taking into account the addresses of patients recorded during lab tests.
But now, 90 per cent of the process of ward allocation has also been automated.
This makes the system operate with a 50 per cent increase in operational efficiency.
Patients are being allocated a hospital bed within 24 hours of being tested, whereas earlier, this used to take more than 48 hours.
At present, the system has 1072 users, 250 being laboratory coordinators, 479 hospital coordinators, 58 city administrators and 285 ward-level war room coordinators.
"With the platform in place, data is visualised on the dashboards at 10 am every day, and the same is shipped to the MCGM and the ministry of health's National Health Portal directly through Quantela's platform, thereby keeping all health portals from city, state and the Centre apprised of the current Covid-19 status," says Aneel.
Aneel feels that it was the BMC's proactive approach and intent to deal with the pandemic in a systematic way that made this system work.
"The second wave was unprecedented in several ways, but I think the Mumbai model triumphed. We are now adding all the vaccination details to the dashboards so that everything about the vaccination process is available in one place in real-time," he says.