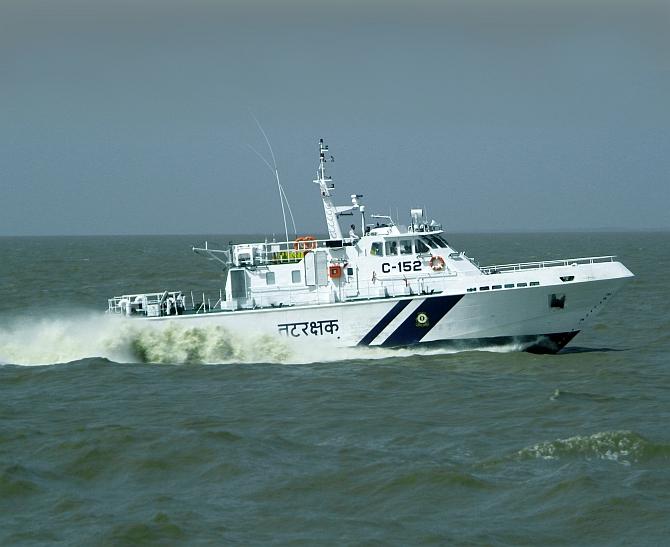 Well-coordinated operation foils 26/11-like intrusion from the sea. Nitin Gokhale reports.
A timely intercept by the National Technical Research Organisation, and its well coordinated operation with the Coast Guard foiled what could have been a repeat of a 26/11-type intrusion that led to the massive attack on Mumbai in November 2008.
At least, four unidentified persons were killed and a Pakistani fishing boat was blown up in the middle of the Arabian Sea in the early hours of January 1, security and intelligence sources have said.
According to top sources, the NTRO chanced upon a conversation emanating from Karachi which spoke about transferring vital equipment to receivers on the western coast of India. The person on the phone also boasted that the cost of each equipment ran into lakhs of rupees.
On hearing this, the NTRO kept a close watch and then again chanced upon another talk that said the 'receivers' have been paid handsomely to transport the consignment further.
The Coast Guard and navy, already on alert because of heightened tension with Pakistan were then informed. The Coast Guard kept a close vigil through the day on December 31.
Around 11 pm on New Year's eve a suspicious boat was spotted about 200 km off the coast of Porbandar. It was bobbing in mid sea and didn't show the usual activity of a fishing boat. Moreover, no Pakistani fishing boat travels so far away from its coast.
Their suspicions aroused, a Coast Guard ship sought to intercept the boat and investigate. Instead of cooperating, the fishing boat headed back towards Karachi.
As the chase began, several warning shots were fired. After an hour, perhaps running low on fuel, the occupants set the fishing boat on fire.
Several loud explosions occurred and a massive fire broke out on the boat. At least four men were spotted on the boat before it sank, a ministry of defence statement said.
Going by the intercepts and the movement of the boat, intelligence sources conclude it was carrying deadly explosives and possibly guns meant for delivery on India's western seaboard to a predetermined spot and a group of people.
It is not clear if the target was Mumbai like November 2008 or any other spot on the western coast.