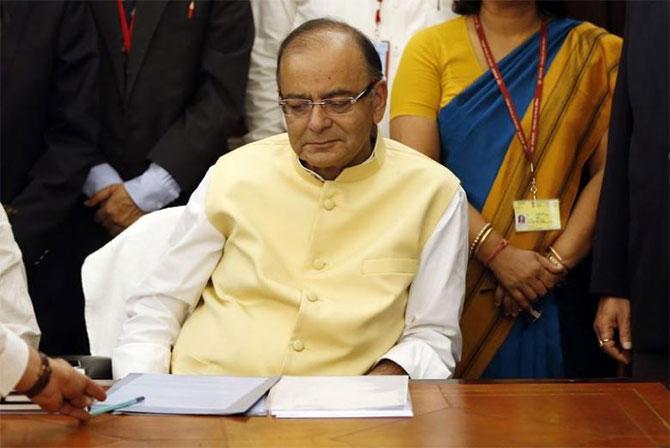 Senior Bharatiya Janata Party leader Arun Jaitley on Wednesday led his party's charge at Rahul Gandhi following the Congress chief's sharp attack on the central and Madhya Pradesh governments and questioned how much does he know and when will he know?
'Every time I listen to the view of Shri Rahul Gandhi, both inside and outside Parliament, I ask myself the same question -- How much does he know? When will he know?' Jaitley said in a Facebook post in response to Gandhi's speech in Mandsaur in poll-bound Madhya Pradesh, where the BJP has been in power for 15 years.
The finance minister termed as 'factually and completely' false Gandhi's claim that the Modi government had waived loans of Rs 2.5 lakh crore of 15 top industrialists while BJP spokesperson Sambit Patra said the allegation was the Congress chief's attempt to register his presence after a 'vacation' abroad.
'Listening to his speech delivered in Madhya Pradesh today reaffirms my curiosity about the answer. Is he being inadequately briefed or is he being a little too liberal with his facts,' Jaitley wrote.
On Gandhi's accusation that Prime Minister Narendra Modi has waived the loans of Rs 2.5 lakh crores of the 15 top industrialists, he said this is factually and completely false.
The government, he said has not waived a single rupee due from any industrialist. The facts are to the contrary.
'Those who owed money to the banks and other creditors have been declared insolvent and removed from their companies by IBC enacted by Prime Minister Modi's Government. These loans were given largely during the UPA (United Progressive Alliance) government,' said Jaitley, who is recuperating from a kidney transplant surgery.
On Gandhi's comment that Modi has given Rs 35,000 crore each to two diamond jewellers who have now escaped out of the country, he said this is factually not correct.
He added that the banking fraud started in 2011 when the UPA II was in power and it was only detected during the Natinoal Democratic Alliance period.
The Congress president was apparently referring to absconding diamond jeweller Nirav Modi and his uncle Mehul Choksi who have allegedly defrauded Punjab National Bank of over Rs 13,000 crore through fraudulent Letters of Undertaking (LoUs).
Gandhi has also accused the NDA government of giving loans only to industrialists and not to farmers.
In his first public event following his return from abroad, where he said he had gone for his mother Sonia Gandhi's regular medical check-up, Rahul promised farmers loan waiver in Madhya Pradesh within 10 days if his party comes to power there and slammed the central and state government over the plight of the agriculturists.
Hitting back, Jaitley said Gandhi's claims described the UPA government, particularly UPA II.
The bulk of today's NPA or bad loans were given by the banking system during the period 2008-14, he added.
'From 2014, we have been systematically taking one step after the other to recover these monies back,' the post said.
Jaitley further said that in 2014 when UPA went out of power, there were only two mobile phone manufacturing units in India.
In 2018, with the result of the NDA government's electronics policy and the incentives in a four year period, this has increased to 120 units with an investment of Rs 1.32 lakh crore.
On Gandhi's charge that jobs are not being created, Jaitley cited the latest gross domestic product data to emphasis that India is the fastest growing economy in the world.
Speaking to the media, Patra claimed that the Modi dispensation had done '1000 per cent more' than the UPA for the community.
Citing the expenditure by the central government on procuring some major produce, Patra told reporters here that the corresponding figures under the Congress-led UPA government were many times less.
The procurement of lentils, oil seeds and cotton under the UPA in 2011-14 was 16,04,447 metric tonnes while it was 61,81,840 metric tonnes under the NDA government in 2014-17, an increase of 285 per cent, he said.
'The money spent by the UPA government in this period was Rs 8,310 crore while the NDA spent Rs 42,970 cr, 417 per cent,' he said.
"Still you are asking questions Rahul Gandhi. You should have known better," he said.
The Congress chief had addressed a public rally at Pipliya Mandi in Mandsaur district to commemorate the first anniversary of police firing during an agitation in which six farmers were killed.
Hitting back, the Congress said arrogance of the BJP has touched its zenith as it turned 'blind' to farm distress.
Congress communications in-charge Randeep Surjewala accused the Modi government of writing off loans worth Rs 2.41 lakh crore of a handful of crony friends citing a reply given in Parliament by the finance ministry on April 3.
'Loot and scoot had become a norm with scamsters fleeing the country after decamping with public money,' he claimed in statement.
'How much does Arun Jaitley know? Has arrogance of power reached such a zenith where the BJP is blind to farmers' distress'? How are empty-worded blogs an answer to betrayal of farmers by the Modi government?' he asked.
In his statement, Surjewala reminded the Union minister of former prime minister Jawaharlal Nehru's words that 'facts are facts, and will not disappear on account of your likes'.
He said contrary to Jaitley's 'lies', the government was actually the 'NPA sarkar' and alleged that the gross non-performing assets have gone up from over Rs 2.51 lakh crore in March 2014 to more than Rs 8.31 lakh crore in December 2017, a whopping rise of 230 per cent as per an April 6 reply in Parliament.
'Fleece the banks and fly away to foreign lands are the facility for fraudsters under the Modi Government's watch. Perhaps, Arun Jaitley forgets the recent bank loot scams worth over Rs 61,036 crore,' he alleged.
The Congress leader said over 130 farmers organisations were protesting across India through an unprecedented rural bandh and rural distress, agricultural indebtedness, farmer suicides and distress sale of crops much below minimum support price was the new order.
'Arun Jaitley, Union minister without portfolio, with zero knowledge of agriculture is giving 'gyan' (wisdom) to the nation again today, with his usual travesty of facts and trivialization of farmers' issues,' he alleged.
Surjewala also alleged that 'Make in India' has become an empty slogan of the government and the BJP and its 'minister without portfolio' forgot that industrial growth has declined from 7.4 per cent in 2016 to 4.45 per cent in 2018.
He alleged that between 2014 and 2018, India's revenue from exports was zero.
'Arun Jaitley waxes eloquent about jobs. The BJP promised two crore jobs per year, but the stark reality that it has only betrayed our youth. The Modi government created only 4.16 lakh jobs in 2016-17 and 77 per cent of Indian workers will have vulnerable employment by 2019 as per ILO.
'Let us not forget that there is 'lowest-ever' agriculture growth under the Modi government - 1.9 per cent (2014-18) as compared to 4.2 per cent under Congress (2004-14).
'The prime minister's promise of MSP equal to cost plus 50 per cent profit for farmers is a white lie. Rural wage growth has dipped from 38 per cent in 2014 to zero per cent in 2018 (RBI report). Tragically, 35 farmers are driven to suicide every 24 hours (NCRB data),' he said.
He said sugarcane arrears surge to over Rs 20,000 crore as an 'insensitive' government 'floundered'.
The PM Fasal Bima Yojana benefited insurance companies, not farmers and companies earned a profit of Rs 14,828 crore but farmers got paid only Rs 5,650 crore, he claimed.
The Congress leader alleged that there was 'double jeopardy' for farmers as agriculture exports declined by $9.4 billion and agriculture imports rose by $10.06 billion.