Locals in Pakistan reserved high praise India for successfully hosting the 18th G20 Leaders' Summit.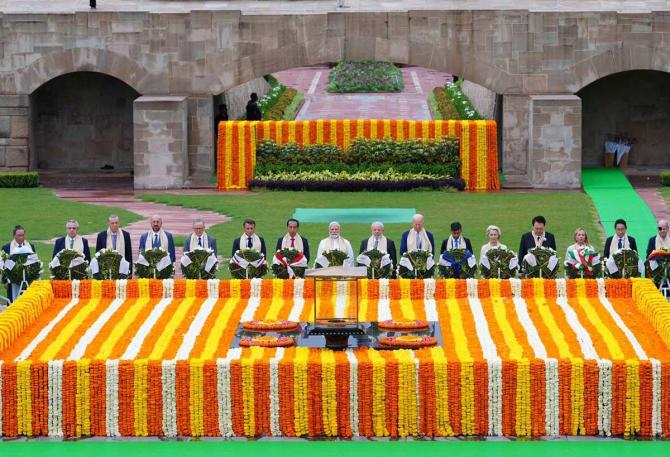 The big-ticket event, which drew heads of state of over 30 countries and delegates of leading international organisations, was hosted over two days -- September 9 and 10 -- at the state-of-the-art Bharat Mandapam at Delhi's Pragati Maidan.
The two-day mega huddle saw the G20 members states adopt the New Delhi Declaration by consensus.
The declaration even had a reference to the ongoing Russia-Ukraine conflict, with the members, while not outrightly condemning Russia, called on all countries to refrain from using force to grab territory.
Among other key takeaways from the summit were announcement of an India-Middle East-Europe trade corridor and the formal induction of the African Union (AU) as a full member of the G20.
Speaking to ANI, a Karachi local was effusive in his praise for India over its conduct of the G20, saying, "When heads of the top 20 countries visit a country, it is an honour for that nation. Indian economy will derive many benefits out of it (G20)."
Another Pakistani local lamented the global isolation of Pakistan, saying, "The fact that India hosted the heads of the major economies also, in a way, casts a negative light on our foreign policy. Our economy and security situation have deteriorated significantly over the last 5-6 years. The world has sidelined us."
WATCH: Pakistanis hails India over G20 Summit
The New Delhi Declaration was adopted on the inaugural day of the summit.
Another local from Lahore questioned the host country, India, over inviting Bangladesh to the summit and not Pakistan.
Prime Minister Modi had formally invited his Bangladesh counterpart Sheikh Hasina to attend the G20 summit.
"At a time when we are desperately trying to lift our economy from the dumps, India played host to leaders of the 20 major economies of the world. The succesful conduct of the global event would have filled the Indians with pride. We all saw pictures from India, of Modi posing with world leaders. They were successful in showcasing India in a positive light before a global audience. The 'Shezada' of Saudi Arabia (Crown Prince Salman) didn't come here (to Pakistani) but went to India for the G20 Summit. This shows the growing importance of India for the world. It was also surprising that Bangladesh was invited but Pakistan wasn't."