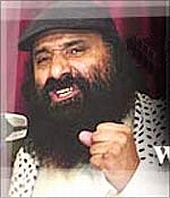 Hizbul Mujahideen chief Syed Salahuddin was among Kashmiri militant leaders who addressed a rally organised in the Pakistani capital Islamabad on Tuesday to protest alleged human rights abuses in Jammu and Kashmir.
The rally, held in the Aapbara area near the radical Lal Masjid, was organised by the Pakistan chapter of the All Parties Hurriyat Conference. It was attended by scores of protesters who shouted slogans against the Indian government and army.
Salahuddin, also the head of the United Jihad Council, said the Kashmiri people were making sacrifices for the "independence" of Jammu and Kashmir.
If the Pakistan government could not protect the interests of the Kashmiris, it should step aside as they are capable of fighting for their cause, he said.
The rally was also addressed by leaders of the Mirwaiz and Gilani factions of APHC and other separatist leaders from the Pakistan-occupied Kashmir.
After lying low for several years during the tenure of former military ruler Pervez Musharraf, who had cracked down on Kashmiri militants groups, Salahuddin has emerged since last year to lead several protests and rallies.
Most of these protests have been organised in Muzaffarabad, the capital of PoK, and this was the first time Salahuddin spoke in public in Islamabad in several years.
Image: Hizbul Mujahideen chief Syed Salahuddin